Rad Radio playlist for 01/17/2019
| Artist | Title | Album | Label | Link |
| --- | --- | --- | --- | --- |
| | | | | |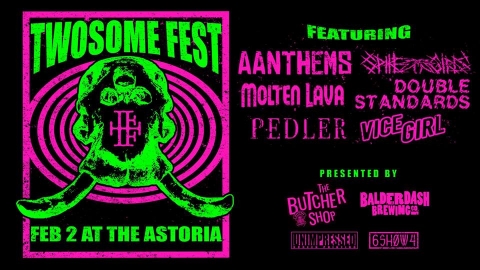 What's better than one? TWO! That's right kiddies, this week i was joined by not one, but TWO rad bands up in the studio to promote the amazing TWOSOME FEST that's happening down at Astoria on Sat, Feb 2nd.  That's a ton of two peice bands, playing a ton of songs, on the second day of the second month of the year! Add to it the fact that each band has put two songs on a brand new 12" that you can pick up at the show for the included cost of your ticket and that's what I call too good of a deal to pass up!
Big thanks to Kyle & Justin from Pedler for masterminding this whole thing, as well as Geoff & Ryan from Aanthems for coming up to the station and killing 2 hours with me, spinning some rad tunes and making me want to go home a watch my old vhs copy of Jacob Two-Two and the Hooded Fang!
Do yourself a favor, go to this show, support these bands, buy the album, get the T-shirt, this is gonna' be one hell of an awesome night!
Keep Creepin'
 - Jonny Bones
Tracklist:
The Interrupters "Liberty" - Liberty 7"
Subcity Dwellers "Gastown" - Gastown 7"
Aanthems "Come Get What You Came For" - Twosome Split
Aanthems "You Are The Devil" - Die Every Night
Pedler "Cultivate" - Twosome Split
Pedler "Amazing Rage" - Demo Of The Month
Double Standards "Hockey Riot Fight Song" - Twosome Split
Double Standards "1-2-3 Tsunami" - Self Titled EP
Spike Girls "Bowl Burner" - Emerald Swarm EP
Spike Girls "Spike Up Your Life" - Emerald Swarm EP
Vice Girl "Kiss Kiss Bang Bang" - No Fear, Only Loathing
Vice Girl "Kill Kill" - Bodysnatchers
Molten Lava "Screamin' Evil" - Heavy Party
Molten Lava "Destroyed In Seconds" - Heavy Party
1982 "A Breif And Unfortnate Meeting" - 1982
Carpenter "Songs On The Stereo" - Lifelines
Lewd Acts "Know Where To Go" - Black Eye Blues
Lewd Acts "Wide Black Eyes" - Black Eye Blues
Subverter "Manic Depressive" - Demo
Outside Influence "I Wasn't Listening" - Stencil
You Big Idiot "Gimmie All The Sauces" - Mega Donair
Greatest Sons "Career Paths" - Play Through The Pain 7"
Operation Ivy "Knowledge" - Energy111
Space Chimp "Stupid Dog" - Mission Alpha
Highlighted/Featured Program:
Posted on:

25 January 2019

By:

JonnyBones