OMG Art Bar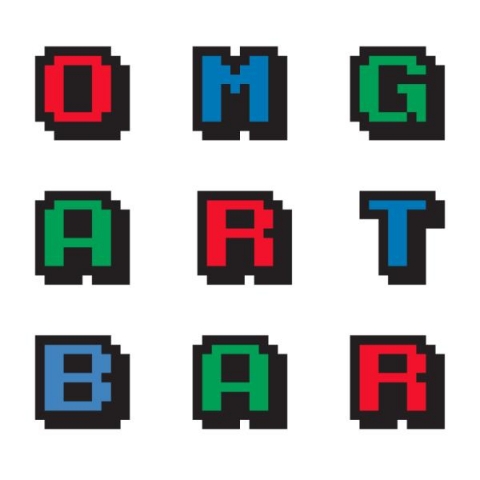 OMG! The second installment of OMG Art Bar happened last Saturday, July 6th at the On MainGallery. Paul Wong, the Artistic Director of the space is an avid artist, curator and facilitator with a penchant for visual media arts. So, of course, all recording devices were welcome.
The event was curated by Matt Troy, an artist in his own right who met the feature artist, PatrickMcManus a couple years back in a collab at Chinatown's Ochi. The two of them have beenbees on a similar social and artistic swarm for a little while, which is how McManus wound upbeing called on for the site-based installation. McManus is an imaginative, calm individual whospeaks mostly when he has something to say and always seems to have his hands in many pots at the same time (including non-metaphorical, actual pots where he grows everything from grapes to herbs to perennials).
McManus is a resident of Chapel Sound, a burgeoning and malleable art and music collective that broadcasts a weekly show every Wednesday from 8-midnight (at www.chapelsound.com). Several of Chapel Sound's deejays including AUTEM (House Kyle), Dream Dior, 8prn, HeadSpace, and KLINE kept the tables-a-turnin', plus sets by Cherchez La Femme, Heartbeat(s), and Tyler Fedchuk. The lineup itself was like a book of wildly different chapters, taking us from heavy hip hop beat lands, to aggressive pop scapes, and drunken bouncy castles.
By midnight and for several hours to follow, there were equal parts people on the sidewalk as there were indoors. It was wicked hot and the bathroom line was eternal and people kept
sneaking to fill their bottles from the sink behind the bar. Moving ominously above the heads of drinking gals, dancing boys, and local art cats, was an arrangement of languorously hung
cellophane. Fans blew air through the lines of erratically folded material. The work, elegantly titled Various Points of Tension, had everything to do with how the room felt, which was like being under water. I considered how the title could be an attribution for something so omniscient and soothing. McManus mentioned having thought about the ripple effect, and I thought about how the absolute, reactionary lines in a ripple follow each other from a single midpoint (a disturbance) only to eventually disappear.
Video projections in dramatic summer shades of deep orange, maroon and yellow leaked
through the cellophane (hung from the opposing East and West edges of the room's ceiling), and casted shadows that resembled pussy willows. The presence of the piece seemed endowed with a grace not unlike McManus' own.
He doesn't draw attention to himself, which somehow makes him seem all the more present. He expressed his desire to have the work function as something of an afterthought, rather than something people arrive at the venue tosee.
A party in every sense of the word, OMG and all the affiliated artists seem keen on making us wonder if we can step into art the way we step into our digital selves. What does it mean for our identities as they become increasingly suspended in the URL? Perhaps I'll continue pouring myself into these events every first Saturday of the month to find out.
Jaclyn is invested in notions of representation, the interplay of IRL and URL identities, romanticism, and what fun has to do with it. Get at her on twitter, @nuclearhair.
Posted on:

11 March 2016

By:

Administrator