Vancouver Fringe Festival: An Arrangement of Shoes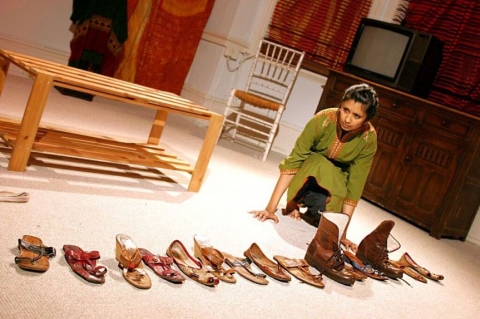 Going into An Arrangement of Shoes, I knew nothing, neither about the Fringe Festival, nor about the play itself: what is it about? how many actors will be performing?
 
The only thing I knew was that a lady with a charming English accent called me to arrange the details of my visit.
 
When my friend and I got seated, it occurred to me that the room is not only quite small, but is also built in such a way that the first rows are placed on a higher level than the ones behind them, which essentially contradicts the basic law of seat placement. Due to that factor, as well as my personal misfortune, I was only able to find a seat behind someone tall, and as a result - wasn't able to see much.
 
But I could hear everything, and was much surprised, as the play started, to hear the familiar voice speaking with English accent.
 
Rahika Aggarwal was the only actress in the play, telling the story of a family from a small town in India. Speaking from the face of Rukhsar, one of the twin sisters in the family, she, however, did such brilliant impressions of all the family members, including Babajaan (grandpa), Dadijaan (grandma), Abba (father), Ammi (mother), and Nisar (the twin sister), that it felt like they all were present. She gave life to characters just using her voice and facial expressions.
 
Following everyday life of the family, audience got to know the family members' character traits, such as grandma's love for movies and grandpa's religiousness when it comes to arranging shoes; habits, including mother's nervous knitting; and little peculiarities like Nisar's shoe fetishism, around which the play was built. Caught in the kaleidoscope of events, the audience laughs, cries and watches the family closely through Rukhsar's eyes as the years go by. From Nisar's first shoe stealing to the tragic deaths of first, the beloved father, and then grandma and grandpa — the play is intimate and touching to the very core of the soul.
 
Left to question how the initial arrangement of shoes that was so important to the religious grandpa, and later on ruined by Nisar, defines one's life, we also learn that in the end, it doesn't. And it doesn't matter that it doesn't. What is more important, is life itself — full of hopes, love, ups and downs, tragedies and comedies.
Leaving the poorly built room, I shook Rahika's hand, saying that it was great. I did not lie. And the seat placement, just like the arrangement of shoes — it doesn't matter. 
Posted on:

2 October 2017

By:

arts and entert...