La Cage aux Folles
"Your life is a sham 'til you can scream out loud I am what I am." — Greg Armstrong-Morris as Albin/Zaza
For the past few weeks I've read rave reviews (in 140 characters or less) of La Cage aux Folles—a Vancouver Playhouse Theatre Company production. So with glowing accolades in my mind and yes, a dose of expectation, I set out to see the musical this past Tuesday.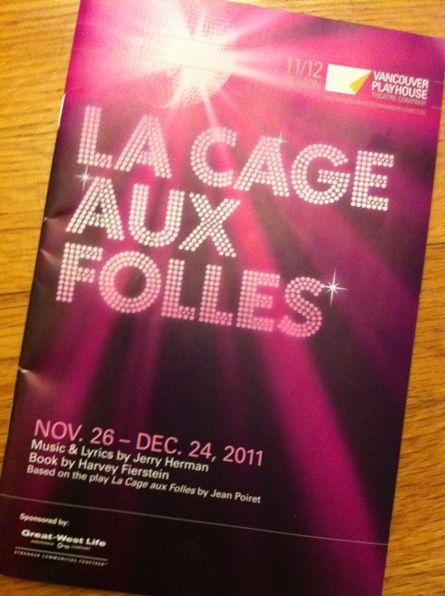 La Cage aux Folles is based on the 1973 play of the same name by Jean Poiret, with the book by Harvey Fierstein and music and lyrics by Jerry Herman. The original 1983 Broadway production won a staggering six Tony Awards, and has led to countless revivals across the globe. This past October marks the beginning of a national tour, featuring George Hamilton and Christopher Sieber.
The musical in a few lines: Meet Georges, the owner of a glitz and glam nightclub in Saint Tropez, and his eccentric partner and star attraction, Albin (aka Zaza). When Georges' son, Jean-Michel, introduces his family to his fiancée's square parents, let's just say things don't go as planned. But through song and dance, and a little drag, we're reminded that regardless of what the world thinks of us, it's always best to be yourself.
I grab a quick coffee to recharge before the show. I don't know if it's the lack of sun, or just the holiday running around, but lately I need more than my daily espresso to stay awake. I sip on my cup of wake me up and get thinking about The Birdcage. Remember the 1996 film starring Robin Williams and Nathan Lane? Pretty much a re-gifting of the play I'm about to see.
I sit down and take it in.
Greg Armstrong-Morris as Albin and Zaza is brilliant. His vulnerability and comedic timing (especially in the second act) are top. As is David Marr's performance as Georges. He is the yin to Armstrong-Morris' yang; subtle and yet powerful.  And how can I forget Vincent Tong (Jacob). His portrayal of both butler and maid is laugh out loud exquisite and thoroughly entertaining.
In terms of the set design, the La Cage marquee-esque sign sets the musical up nicely. And the cage filled with dancing lovelies, beautiful. The stage, though, wasn't always used to its full potential—especially in the café/boardwalk scenes. More engaging background performers or filler props needed? Looked a little empty at times.
Costumes are splashy, full of faux feathers, sequins and sparkles. The can can girls in their lit brassieres and gold body suits are stellar. And Zaza's red explosion and green mermaid number—pretty and snug in all the right places. Equally, I love Georges' styling. Félicitations Phillip Clarkson (costume designer).
However, I found some numbers fell flat—on the hunt for more punch and pizzazz. I Am What I Am is strong but only in the last few bars. Would have been nice had the music grabbed you from the onset, rather than knock it out just at the end. Also some lines—meant to be comedic bursts by our nightclub dancers—are lost on the audience due to rushed delivery or failing to engage with fellow co-stars. But come the full cast's belting of The Best of Times and these are thoughts of yesteryear. In fact, chez Jacqueline and the grand finale are among my favourites performances of the night. The orchestra is in full swing while the stage is beaming with talent and energy.
This Tuesday, the show is followed by an informal Q&A with a dozen or so cast members. While the theatre clears out, a good forty or so stay put. Can you get by on theatre wages, one asks. Most of them perform on stage but also do voiceover work, drag, act in television and film, or go abroad. So yes, but variety is the spice of life. Someone asks if the play, given its LGBT themes, plays better in Vancouver than other cities. I find the question a little ridiculous but like you'd think, this musical can play anywhere. The Broadway revival is across the US and not just in major city centres. It's not really about drag entertainment, or being gay but about family. The cast lets us in on its rehearsal schedule: eight hours per day, six times per week for three weeks—and all at the Orpheum Annex. I raise my hand to see what it is like to play characters that have been so well developed on the stage—is it creatively stifling, how do you add your own flare? Armstrong-Morris addresses my six questions in one. You shift. As you work with others, your perception of how you would or should play your character changes. You add, you subtract. But at the same time, you steal from the best. It's all about balance.
I can't help but think about my fellow Tweeters' online praise. Had reading their e-blasts of amazing and spectacular clouded my own experience? Yes. While some elements popped, others were just, there. Ultimately, I went into the theatre anticipating great and came out with good. Expectation is the root of all heartache says Shakespeare. Sure. But it is clear that Armstrong-Morris, Marr and Tong found their middle ground.
Tweet, tweet.
La Cage aux Folles plays at the Vancouver Playhouse until December 24, 2011. For tickets and more info, click here.
Posted on:

18 March 2016

By:

Administrator