Chun Yi: The Legend of Kung Fu
On Wednesday night, January 4th, 2006, the casts and crews of Chun Yi: The Legend of Kung Fu marked their first ever visit to Vancouver. CJSF volunteer Qian Li attended the first of ten showings at the Queen Elizabeth Theatre.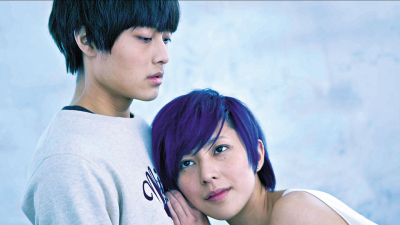 For better or worst, the ancient art of Chinese Kung Fu seemed to have struck a core with the North American audience in recent years. Judging from the popularity of modern Kung Fu flicks, the likes of Croaching Tiger, Hidden Dragon (2000), and House of Flying Dagger (2004), one could expect Kung Fu film or theatre productions taking off like sprawling yoga studios.
Originally developed at Beijing's acclaimed Red Theatre in 2004, Chun Yi: The Legend of Kung Fu (2004) began its North American premiere in Toronto. Regardless of the preconceptions one may have, the show was a gorgeously choreographed dance drama that tells a moving story of Chun Yi's temptations, hardship and triumph.
In the span of two hours, the show moved through an array of scenes interweaved with spellbinding martial arts, acrobatics, and modern dance sequences. In fact, most of the performers on this show were handpicked from some of the best martial arts training schools in China, possibly in the world. In addition, the production's designed-to-amaze elaborate stage sets further enhance the experience.
Aside from the visual imagery, behind this Kung Fu extravaganza was a story about a young boy. With the help of his mother, he entered the Temple of Kung Fu and sought apprenticeship from a Master to become a monk in the Kung Fu tradition. The master named the young boy, Chun Yi ("Pure One"), which was a wee bit tacky for my liking. Nonetheless, the story went on to show how Chun Yi overcame life's many distractions and challenges in order to hone his Kung Fu skills. He was eventually honored as a Master and became the mentor of a new generation of young Kung Fu hopefuls.
Overall, the plotline was simple but profound. Chun Yi's story was infused with Confucian ideology; his journey to become a master of his own crafts, which was almost led astray by his very own temptations, highlighted the age-old sentiment that a person's toughest enemy is often coming from within.
With Chun Yi: The Legend of Kung Fu, the production crews have deservingly succeeded in incorporating martial arts with extensive dance elements. The dancer and assistant choreographer Du Qiang, who played Chun Yi, made a point in a previous interview that he thought the idea of fusing kung fu and modern dance was a bit strange at first - they sure have pulled it off.
The show will be running from January 4th to 11th, 2006 at the Queen Elizabeth Theatre. For more information, please visit the show's official website @ www.chunyi-kungfu.com. Tickets are available through Ticketmaster @ www.ticketmaster.ca.
Posted on:

18 March 2016

By:

Administrator