Brief Encounters 21
Brief Encounters 21 is an interdisciplinary performance series where artists from various backgrounds get paired up to collaborate on creating on original piece for Vancouver audiences – in only two weeks. This edition took place at Guilt & Co. in Gastown May 8-10, 2014.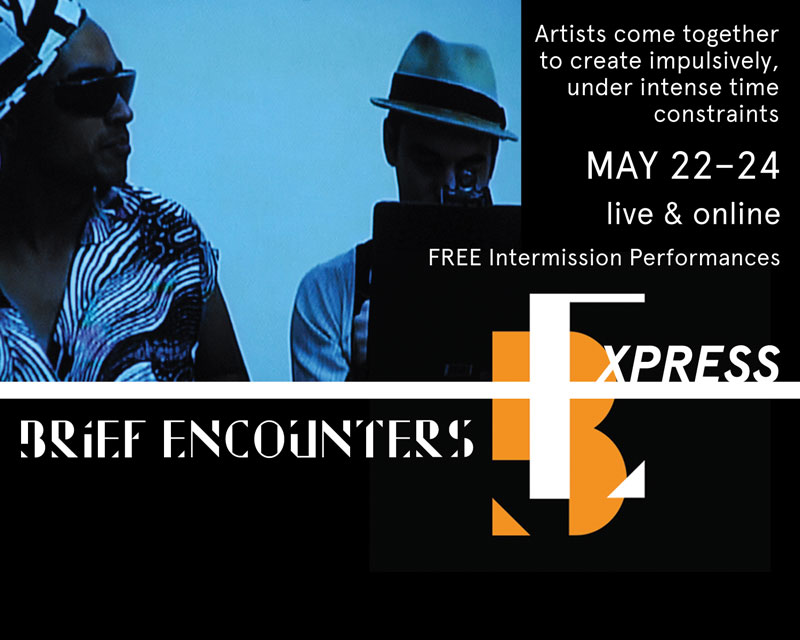 [If you missed this amazing event, be sure to check out Brief Encounters Express May 22-24 in the rEvolver Festival, where pairings have only FOUR HOURS to develop their piece.  See www.briefencounters.ca for details.]
Imagine a room, standing room only, full of people talking. Following a witty introduction from the host, Riel Hahn, a hush falls upon the room.  The audience is swept away in the dramatic performances of some very unlikely artist collaborations, including these highlights:
One unlikely pairing was "beverage alchemist" Taylor Partel and composer Marguerite Witoet.  Together they performed "Elixir of Life." Set to Witoet's whimsical accordion, these artists playfully created the feeling of an old time snake oil salesman.  Youthful upstart Partel dressed in a top hat, tails, and an ever-present smile as he expertly creates colorful drinks for members of the audience.  The musical timing of Witoet and the witty rapport between the two artists was rewarded with "ohhs" and "ahhs" from the audience, and healthy applause. 
A unique cultural connection was represented with the pairing of singer-songwriter David Newberry and powow dancer Nyla Carpentier in their piece "Equating Echoes."  When asked about their process of coming together to create a unique piece of work, Carpentier stated she shared what she did not want to do, and they built at new work from there.  The end result was a performance with great chemistry and communication between the performers.  Newberry's use of a loop pedal and echo effects allowed him to create a hypnotic rhythm.  Then he added other sounds and melodies with his guitar to create an engaging soundscape for Carpentier to dance to.  Her combination of traditional powwow and contemporary dance created an engaging narrative you couldn't look away from.
The evening closed with the powerful and thoughtful "Felt is Not Feeling" by slam poet Floyd VB and puppeteer Shizuka Kai.  Prior to the performance, Kai admitted that she loves poetry, but she has not developed her skill in the art form.  This confession made her opening of the performance with a poetic rant more profound.  This performance showed the Brief Encounters project gives artists the opportunity to work with other disciplines in order to help them develop their artistic abilities in other areas.  The easy dialog between the two artists was filled with thought provoking self-reflection. This poetic narrative lead to a transformation of Shizuka Kai's puppet in a mini felt puppet representation of Floyd VB, dressed identical to the poet. The crowd was delighted as the two of them mirrored each other's movements.  The wonderful play on words of the production perfectly described the dilemma people (and puppets) most go through to be understood by the world and themselves.
The most successful projects were when each artist's individual talents were showcased, neither artist outshone the other.  When both artists contributed equally to bring the idea to life, it created the most memorable performance.  The artists that interacted well with each other and the crowd received the strongest applause, and the most discussion amongst the crowd.
Brief Encounters 21 artist pairs:
Preparatory Exercises for the End of the World
Laiwan – Visual Artist
Georgina Beaty – Theatre Artist
Plume [Intersections 2014 film]
Jessica Han & Biliana VeLkova
The Madhu & Ralph Show
Madhushani Ramaraju – Spoken Word Artist
Ralph Escamillan – Contemporary Dance Artist
Elixir of Life
Taylor Partel – Beverage Alchemist
Marguerite Witvoet – Composer
Triptych [Intersections 2014 film]
Kate Kroll & Aryo Khakpour
Equating Echoes
David Newberry – Singer / Songwriter
Nyla Carpentier – Powwow Dancer
Felt is Not Feeling
Floyd VB - Slam Poet
Shizuka Kai - Puppeteer
Posted on:

18 March 2016

By:

Administrator