Khatsahlano Festival Live Broadcast
CJSF 90.1FM is ready to bring the energy and joy from the Khatsahlano Festival to its listeners!
On Saturday, July 12th, CJSF Radio in conjunction with CiTR Radio is will be doing a live remote broadcast from the Khatsahlano Festival! All the performances on the Cypress Stage will be aired live from noon till 7pm.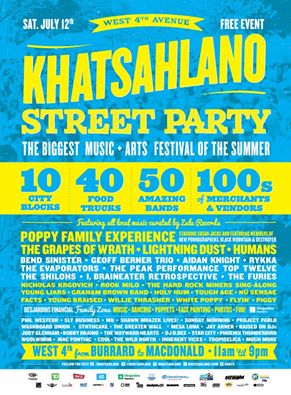 Khatsahlano Festival, or Khatsahlano Street Party, is one of the biggest celebrations in Vancouver devoted to Music and Art. Created by the members of the Kitsilano West 4th Avenue Business Association back in 2011, the festival features musicians, artists and entertainers from all over Vancouver and the lower mainland. More than 50 various performers will be presented on 8 stages on a 10-block street in downtown Vancouver on West 4th Avenue, between Burrard and MacDonald from 11am till 9pm.
CJSF Radio and CiTR Radio are happy to support and promote local artists and bands by offering special programming on the day of the festival! The Cypress stage performances will be brought to you live, including the following bands:
²  Phoenix Thunderbird — 12-12:40pm
²  Shawn Mrazek Lives! — 1-1:40pm
²  Sunday Morning — 2-2:40pm
²  Inherent Vices — 3-3:40pm
²  Cool — 4-4:40pm
²  Young Braised — 5-5:40pm
²  Holy Hum — 6-6:40pm
²  White Poppy — 7-7:40pm
Don't miss out! Tune in to CJSF 90.1 FM or online at cjsf.ca for the special broadcast on July 12th!
For more information about Khatsahlano Festival, visit http://www.khatsahlano.com/
Posted on:

12 April 2016

By:

Administrator