Hippo Campus and Sure Sure at the Imperial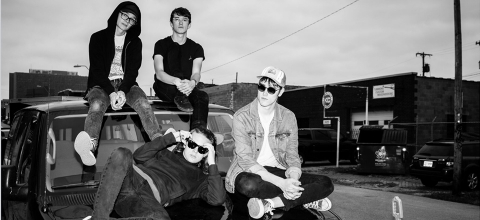 Fans of American indie rock band, Hippo Campus, gathered at Imperial Vancouver on January 18, eagerly anticipating to hear some music.
Sure Sure, an experimental pop band from Los Angeles was the perfect opener for the night. Although their performance time was short, they put their all into every song they played and seemed to really enjoy their time on the stage. Their song "Hands Up Head Down" had the audience dancing to a fun, suspenseful electronic beat, while the chords played on the keyboard nicely complemented the quirky vibe of the song. Currently on tour with Hippo Campus through the end of February, this was their first ever show in Canada. The group will be having their own national tour starting in April to promote their newly released, self-titled debut album.
Hippo Campus, band from Minnesota, put on a great show and did not disappoint their fans. "Interlude" had the audience cheering enthusiastically, especially once the trumpet solo hit. Besides their latest EP, warm glow, which includes three new songs, they also played a couple popular songs, like "Suicide Saturday". Everyone was happily dancing and in front of me was a group of boys who sang the lyrics to every song. The vocals and instrumentals were smooth, all perfectly performed by the band. A few slower songs were performed halfway through the evening that shifted the mood and had the crowd gently swaying to the beat.
Although the band finished with fan-favourites "Way it Goes" and "Buttercup," it felt like the crowd had only just gotten warmed up for the night, as a few calls for an encore were made after the group had left the stage. Unfortunately, it wasn't long before crew members started cleaning up and people began to leave.
Overall, it was an enjoyable night of chill, indie music.
Posted on:

19 February 2018

By:

arts and entert...