Dead Meadow at the Rickshaw Theatre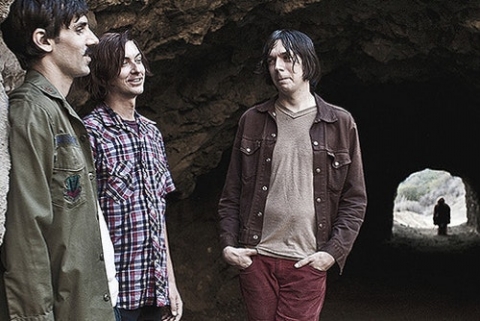 I found Dead Meadow's great self-title debut album in a record store when I was a kid, and it blew my mind. I bought it on faith, and they came through. The band was touring this season and CJSF sent me, your intrepid reporter, to report and review an all-time-favorite of my favorite bands.
The venue is the Rickshaw Theatre, well known to downtown music fans but new to me; I'd only seen it from the outside. Turns out the Rickshaw is sort of a historical building, once a state of the art movie mansion in the 1970s that was refurbished and converted into a live music house about ten years ago. As a newbie, I didn't know what to expect, but I like the Rickshaw and I'd like to see more of the shows that they have coming up. Be sure to dress for changing temperatures and pregame if you're on a budget.
Doors opened at eight, and the concert didn't start until nine, which meant that I had time to get drinks and food at real-life human prices at a nearby convenience store. It's downtown, but even a backwards backwoods guy like me can find plenty to do with a little free time near the Rickshaw. Situated in the middle of Chinatown, the venue is surrounded by good food at great prices. Alternatively, you can get drinks at the bar in the Rickshaw, despite the the mass of drinking holes nearby, and  bounce amongst the other concert guests looking around for new merchandise, and an excuse to show off their coolest T-shirts to someone who actually gets it. You might want to step out for food, though, because the Rickshaw serves drinks alone (unless it has a secret kitchen underground and if it does, I WILL find your underground kitchens, O Rickshaw … one day I will). Or pregame at home if you're on a budget (jk, support local venues).
Two guest acts played first during this magical night at the Rickshaw. The band Ghostmeat played a one hour set of swirling psychedelic guitar. They don't have much of a presence online, so you might well wonder who they are and what they play. I'd never heard of them before and wasn't able to turn up much about them. Fans of Dead Meadow or Bardo Pond and any of that sweet swirly "stoner metal" music find a new route to godhood in Ghostmeat. It was such a good set I could have gone home satisfied with that. They brought good spirits with their music. I'm still not sure who they are, though, or how a band with so little evidence of their past existence got to be so well attuned to each other as a concert group. Maybe they are a band from the future, or the distant past, or maybe they just are really good! Maybe it was Dead Meadow in disguise with friends.
In fact, perhaps thanks to a concert ad that listed Dead Meadow first, when Ghostmeat wrapped up their set I thought I actually seen the headliner already. Even though they hadn't played a single song I knew ("so many new songs!!--but that one kind of sounded like my favorite from their first album, do you think it was a medley or a new version or what?"), they still had rocked my socks off regardless. Since this Ghostmeat band decided to see how far they could blow the human mind, I got to hear one of the greatest live sets in my life. I enjoyed the satisfaction of having seen what I thought was favorite bands in GREAT form, when suddenly Morpheus pulled me right out of the Matrix and said, "No, Neo: what you thought was Dead Meadow was only their guest act. The real world...is yet to come."
And come it did.
After that confusing but thrilling illusion, Blackwater Holylight came and delivered an hour of supernaturally sensual songs that tease one with illusions of black magic. According to their Facebook reviews, they're an all-female heavy psychedelic rock band from Portland who tours the West coast (and the EU!) supporting their self-titled debut album. Fans of Katatonia would be in melodic and shredding riff heaven with Blackwater Holylight. The songs are melodic and fun, well composed and well played, so don't be put off by the fact they're a new act. 
Compared to the prior band, Blackwater Holylight have a more structured riff/melody song style to their music, are younger, and are more focused on songs than a kind of jam set structure, so they brought something to feed the hearts of those fans of contemporary song-based music who might find themselves missing out on the fun during an hour of droning continuous jams without a single break.
While the two openers differed greatly in some respect, like Ghostmeat's hourlong continuous set versus Blackwater Holylight's traditional riff magic, or the way Ghostmeat seemed like a really seasoned group while Blackwater Holylight has just released one album and gives you more of the "Holy crap, in twenty years I'm going to be glad I saw them early" vibe, the entire lineup complimented eachother perfectly: both openers spirit themed metal bands, both touring with Dead Meadow, both running songs in heavy, slightly otherworldly psychedelic metal. Whoever picked the bands did pretty well, they have a sense of balance.
Then it's time for the third act. I don't know Dead Meadow as a deep collector, but they've been touring for about twenty years. Starting off in Washington, DC, they relocated to LA in. 2006, according to their website, and it's their first album that I own (from 2001). I was optimistic after the first two acts, figuring they picked guests to fit their taste in music, but really, I had no idea what they were going to do. 
Dead Meadow opened their first album with a swirl of ghostly metal, a swimming soup of live magic music. Where did that sound come from, and would they do it again? Twenty-one years into their touring career, the band showed up to show us.
The band brought a beautiful visual backup that defies description. Between the riffs, the band would glance up and behold the kingdom of Dead Meadow. Starting sparse under bright lights, the band let us wonder whether we were going to have a quiet set. I thought the three-member line up was going to stay in the more they began in, but before I knew it they'd surprised me. I was in another world. They rocked that world. It was good.
Riff heavy music with driving fuzz bass and vocals that drone rolled out with a reverb, rocking my socks off so hard that I spun around, bought a pair of new socks, and came back to get rocked again. The Dead Meadow encore was fantastic. I wish they'd done three sets and had an encore with the guest bands. It would've been immaculate. After a hard rockin hour of musical action, though, I guess our hosts at the Rickshaw needed to clean up, and the musicians dunking their blistered fingers in ice water and enjoying the joy of a night well played.
Posted on:

5 March 2019

By:

arts and entert...