Colin Stetson and Sarah Neufeld at the Biltmore Cabaret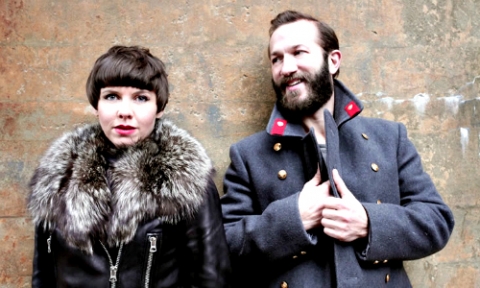 I walk into The Biltmore, I sit down, and I drink my beer. I am here to see Colin Stetson and Sarah Neufeld. I strike up a conversation with a fellow that has seen them in Boston on this tour. From the Polaris Prize nomination of this new album out on Constellation, Never Were The Way She Was, there is a certain excitement to this show. He tells me that the Boston show was not attended en masse by the Boston public. It also helps that Sarah Neufeld is the violinist for Arcade Fire too.
I am told from this friendly man and his girlfriend to be wary of the opening act, Ryan "Lone Wolf" Sawyer. The opening act starts up and it is literally a man and a drum kit, singing. The opening song is a cover, and it seems familiar to my ears. "Oh! 'Rain on Tin' by Sonic Youth!" I realize. This Lone Wolf is, with such fury, unloading fills all over the place: smashing this, pummeling that. But, there are no songs here for your ears to latch on to. Great drumming to the core, but his vocals and drumming never seems to fuse together. I am all for being inventive and against the grain in art, but just because you can do drums and vocal covers of The Cramps and Sonic Youth, doesn't mean you should. Yes, he played "Garbageman". 
Okay, bit of waiting and now on to Stetson and Neufeld. Stetson is armed with his massive bass saxophone, a smaller sax, and a large clarinet. Neufeld's weaponry is her violin and angelic voice. The opening composition is just pure bass frequency, almost on par with some experimental electronic music. There is so much power in this dissonant throbbing, and Neufeld colouring the piece with subtle strings. The track is "The Dark Hug of Time" and is an immense piece. I'm not sure where the beats are coming from, but they are there ever so lightly. No laptop in sight. How many effects are on Stetson's sax, I'm not sure. There are no effect pedals in sight either. Is this pure talent with his instrument? I'm guessing that would be the case. You name them, and Colin Stetson has worked with them. David Byrne, Tom Waits, Feist, TV on the Radio, LCD Soundsystem, The Chemical Brothers, The National, Arcade Fire, and of course Godspeed You! Black Emperor and many, many more. It reads like someone's music library! A well travelled man in the music scene, and for good reason. The man is multifaceted, having advanced techniques and training with his instruments
There is a certain head nodding feel to this material, the BPM to some degree has this ability to really get you going on record, and even more so live. Of course, the melancholy and cinematic material has that wispiness to drift you far away to a place of relaxation.  Many times throughout the night, Stetson and Neufeld stare at each other, gaze locked for many times during the show. There is passion here, and I'm told that this not just a musical relationship, but also a personal one. It brings a whole perspective to both the live material, and the album. 
The crowd is packed tightly into the The Biltmore, and it shows Stetson and Neufeld are excited by the looks on their faces and playing that they are clearly tapping into the crowds' fervour. It is a real treat to see how much effort Stetson puts into producing the sounds that he does from his wind instruments. After each song it seems his head is at risk of maybe blowing off, as he relaxes his face and smoothes his jaw. Intense, indeed. Both Stetson and Neufeld each play a solo composition, where it serves as a break for the other. It is just them creating this wall of sound, and I guess it takes a lot out of you, so a break makes sense. I have trouble picking what is from the album, and what is unreleased, as it all blends together seamlessly.
The crowd is in fine form and we cheer and clap and they are very grateful. Neufeld explains, "It's great to be in Vancouver. I'm like.. kinda from here. My mom and dad are over there." They end their set, and we give them much love, and they rewards us with an encore. I think I understood from what Neufeld said that it was a new unreleased track from a forthcoming solo album of hers. It is short and sweet. They leave the stage. We go home, happy.
Posted on:

12 April 2016

By:

Administrator