CJSF 90.1 FM Party @ The Astoria Pub
Simon Fraser University's CJSF 90.1 has been on the FM dial for 11 years! We received our FM license in 2003 but have been melting ears for 47 years! To celebrate, we're throwing a huge party with six great local Vancouver bands.
Come out to The Astoria Pub on Friday September 26 to help celebrate this milestone and watch some of Vancouver's best bands.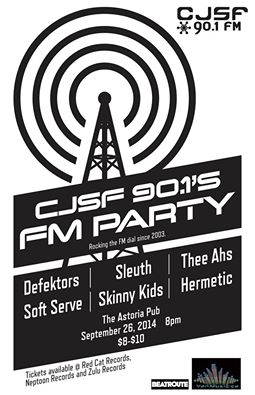 There will also be a photo booth and a raffle valued at over $200!
Tickets are $8 in advance from available at Neptoon Records, Red Cat Record, and Zulu Records or are $10 at the door.
Doors: 8pm
++++++++++++++++++++++++++++++++++++
Hermetic
"Hermetic's rough-around-the-edges style does add some earnest, fresh-faced charm to the album, and guitarist Eric Axen and drummer Bart Newman play off each other with palpable chemistry. With only two instruments, they manage to create a consistent, tangible mood, ever-present distortion layering a honeyed warmth and buzz to almost every track." - Vivian Pencz , Georgia Straight
++++++++++Musical Performers+++++++++++++
Defektors
http://defektors.bandcamp.com/
++++++++++++++++++++++++++++++++++++++
Sleuth
Two nerds, one charismatic, one giant--and all four are looking about for clues. We've delicate resistance to art school etiquette without being artless or heartless.
Sleuth latest album Brave Knew Nothing was recorded on an island in Washington state in a forest next to the ocean, by three naive and earnest Canadians with the aid of a wise sage. The music explores indiepop tropes with a backlog of literary, artistic and musical references supporting soulful lyrics. 
The group of friends came together in early 2010 featuring The Lion in Love on guitar, vocals with Julian Bowers on drums, guitar and Oliver McTavish-Wisden on keys and later, Leon Easter on bass. Having quickly amassed a selection of songs to be recorded 8 months later produced by Jherek Bischoff (The Parenthetical Girls, Dead Science), the music is now available on a limited cassette or download. 
++++++++++++++++++++++++++++++++++++++
Thee Ahs
The Thee AHs- is a band from Vancouver, Canada and we play Black Bubblegum Pop!
Their names are Dahn, Davinah, Mareesah and Sarah. Dahn plays bass, Davinah plays guitar, sings and writes all the music, Mareesah plays drums and Sarah is the lead singer and does all the drawings you see around here.
They have recorded and self-released two full length albums: "Thee AHs Nation" released in 2011 and "Future Without Her" released in 2013. We just recently finished our third album "Corey's Coathangers" and are releasing it this March with Jigsaw Records and Birdtapes!
They have toured across Canada, the United States, played NYC Popfest 2013. We're planning a UK tour this summer and we're playing in Indietracks!!
++++++++++++++++++++++++++++++++++++
Soft Serve
http://softserve.bandcamp.com/
"Vancouver trio Soft Serve have, well, served up their debut collection of songs, and while it's not exactly soft or vanilla sounding, it does go down smooth." 
"Here, the band offer up three poppy post-punk jams anchored by frenetic guitar work, a driving rhythm section and frontman Kyle Thiessen's stoic vocal delivery. The songs thrive on repetition, but the hooks, verses and choruses are all thoughtful enough to leave you wanting more." 
"Check out Sink Deep, which was recorded by Mint Records' Jay Arner, in its entirety below. The band will celebrate the release with a hometown performance at the Cobalt tonight (September 6) alongside the Albertans."
- Josiah Hughes from Exclaim! on Soft Serve's new EP
++++++++++++++++++++++++++++++++++++
Skinny Kids
http://skinnykidsband.bandcamp.com/
A three piece garage rock n roll band from Vancouver. They play reverb drenched surf stompers..
+++++++++++++Set Times++++++++++++++++
9:15 - Defektors
9:50 - Skinny Kids 
10:25 - Soft Serve 
11 - Thee Ahs
11:35 - Sleuth 
12:20 - Hermetic 
+++++++++++++Photography++++++++++++++++
Lindsay's Diet - www.lindsaysdiet.com/
Lindsaysdiet.com has been a staple for a myriad of photography forms since 2006, when decorative-only eyewear and primary-coloured (and poorly manufactured) hot pants were the style of the time.
Starting with silly photos and long winter nights at The Mod Club and progressing to well documented birthday gatherings, band nights, weekly parties in both Vancouver and Los Angeles, trips to Miami, Austin, Barcelona, London, Portland and more beach days and nights out than can be remembered.
Shortly after finding some expedited, grassroots success, Lindsay added two additional photographers to the roster. Not many months later, our company now boasts seven regular photographers, netting photos for our website and social media pages almost nightly.
We shoot everything from fashion shows to scotch tastings, sporting events to warehouse parties, private events, weddings, concerts, birthday parties and more – happily documenting everything you'll want to remember.
Posted on:

12 April 2016

By:

Administrator