Burger-A-Go-Go at the Rickshaw Theatre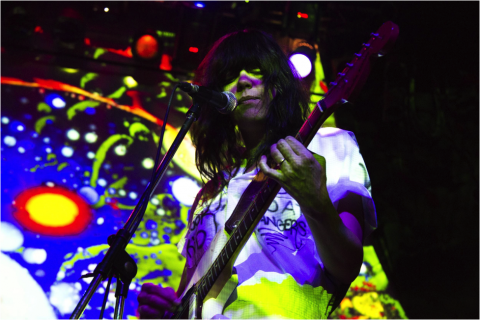 Burger Records' travelling music festival hit Vancouver's Rickshaw Theatre on February 22nd and 23rd. The lineup featured eight all-girl or female-fronted bands in a high energy celebration of female badassness. With the majority of major festivals featuring predominantly male acts, this gathering of girl punk rockers was more than welcome, even if it was on a smaller scale. Night one of Burger-A-Go-Go featured The Flytraps, Feels, Death Valley Girls, and finally The Coathangers.
Following the Feels' psych-rock opening set, The Flytraps played a loud, fast, rock and roll-fueled set. Lead singer Kristen Cooper captured the audience's attention with her hilarious and unfiltered persona.
Of all the bands on the bill, I was most excited for The Death Valley Girls. No one has a stage presence quite like lead singer Bonnie Bloomgarden, and no one does anti-establishment, fight-the-system music quite like The Death Valley Girls. Armed with feminist lyrics, like the ones found in "I'm a Man Too," made these ghosts and ghouls a perfect fit for Burger-A-Go-Go. Their dark, sometimes spooky power-punk vibes definitely did not disappoint.
Veteran rockers The Coathangers headlined night one, and as girls who have been around the punk scene forever (2016's Nosebleed Weekend was their fifth studio album), they are a strong testament to the awesomeness of girls who make cool music. On one hand, the Coathangers follow a pretty standard punk formula, but on the other hand, their music has a unique sound that features all three members on vocals. They make it look easy and natural. Their set featured old favorites such as "Adderall" and "Follow Me", and tracks off of their most recent album.
Night one of Burger-A-Go-Go featured a diverse lineup of artists that were both unique and perfectly in-sync both musically and aesthetically. The show was a huge, talent filled success that we can only hope will return to Vancouver for another run next year.
Posted on:

8 April 2018

By:

arts and entert...