New #Studio6Forum! Relational rEvolutions Curator Roundtable at the 2019 Queer Arts Festival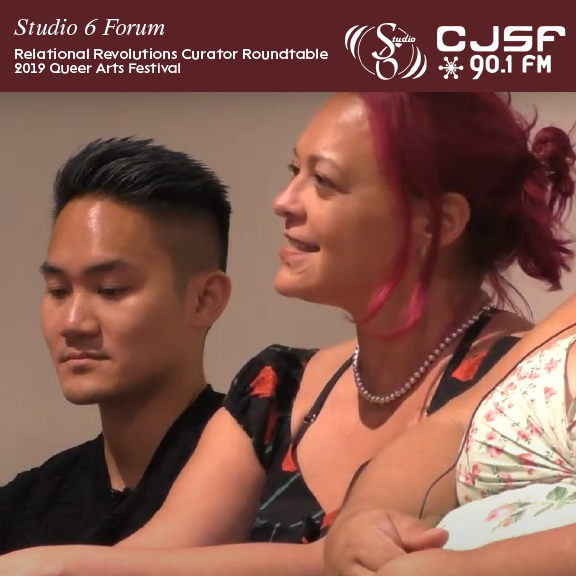 In our latest #CJSFStudio6Forum video, we join curator Elwood Jimmy along with artists Alexandra Gelis, David Ng, jes sachse and Raven John at the 2019 Queer Arts Festival as they talk about that year's titular exhibition, "Relational rEvolutions."     
 
The themes of this panel discussion are more relevant than ever, speaking of a "revolution of being," or "artistic, spiritual and life" practices that gesture toward a "radically different and tender way of being." Such ways of being are, as Jimmy writes in the panel's statement on the QAF website, necessary to "face the violence on particular bodies – the human and non-human – that keep colonial systems in place, and to not lose sight of what we do not want to see."
Watch it below, on the CJSF #Studio6Forum page (https://www.cjsf.ca/studio6/PublicForums), or on the CJSF 90.1 FM YouTube channel:
This year's instalment of the Queer Arts Festival takes place from July 24 to August 13, 2021, with the theme of "DISPERSED: it's not easy being green." Early Bird Passes will be on sale on Eventbrite starting June 8. Learn more about the 2021 Queer Arts Festival at queerartsfestival.com, and stay tuned this Pride season for more updates on events like this!
Stay on top of the latest #CJSFStudio6 episodes (including the latest #Studio6Forum videos): subscribe to the CJSF 90.1 FM YouTube channel today, at http://bit.ly/SubscribeCJSFYouTube.
Funding for Studio 6 comes from the Community Radio Fund of Canada's Radiometres program. For more information on the Community Radio Fund of Canada and its initiatives, visit www.crfc-fcrc.ca.
Date:
Monday, June 7, 2021 - 08:30
Posted on:

7 June 2021

By:

cjsfpr