Migration Patterns
CJSF volunteer examines and discusses Migration Patterns the latest exhibit by Lisa Walker showing at Gallery Gachet.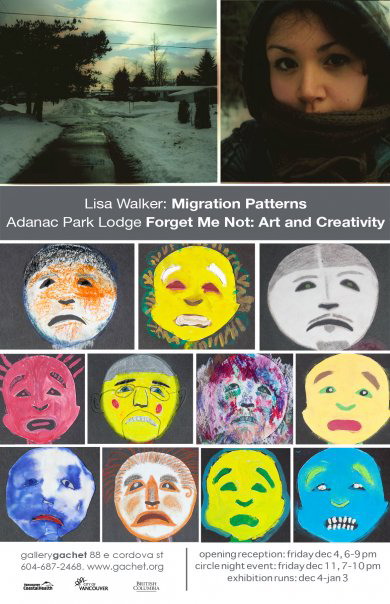 On the last episode of Sound Therapy, my co-host and I interviewed Lisa Walker an artist from Gallery Gachet. She talked about her exhibition: Migration Patterns. During the interview Lisa and I had a discussion about the experiences of home, which made me realize how significant the word 'home' is.
When we spoke about homelessness, it is really more sophisticated than just housing and a roof over ones head. It is about a feeling of safety, emotion, love, creativity, free play and all the beautiful things in the world. This drew me to the conclusion that meaning of 'HOME' can be taken for granted. For those that don't have this place, it is a void they likely don't know how to fill. For those in this situation, they often turn to other ways to achieve this place of safety and comfort. However, these ways are not sustainable or controllable.  
I recall a time in my life where there was much consternation, I somehow found myself back home. It became a place where free childhood memories came to mind; there were other ones (maybe not so nice) too. However, the feeling of peace associated with it still seemed to overcome. It became about simplicity in a complicated time in my life, it was grounding when I was lost in the clouds and it was a trusted life raft in what I perceived were oceans of despair.
It really saddens me for those who do not get to have this feeling of safety, this reprieve from a scattered world. People deserve the feeling of home, no matter what their circumstances or the poor choices they may have made in the past. Home is a part of human nature and 'HOME' lessness is a word that is bigger than we really have come to believe it is. It is difficult yet important work to give everyone the chance at having the feeling of HOME.
Lisa Walker's exhibit: Migration Patterns runs until January 3, 2010 at Gallery Gachet
Posted on:

11 March 2016

By:

Administrator