Off White Christmas
99 stars of David walk into a bar. The bartender says sorry, we don't serve stars of David here. What jew talking about!? – Jeff Gladstone, Vancouver TheatreSports League improviser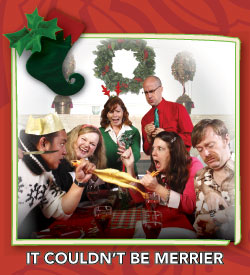 Thank God for Google calendar. Tonight is the opening night of the improvised holiday comedy sketch show Off-White Christmas. Totally slipped my mind. With so many invites, dinners, get-togethers…'tis the season to be forgetful. After a day like today though, a little comedy will do me good.
Ten to seven. Jump in the car and hastily make my way to Granville Island, headquarters of the Vancouver TheatreSports League's Improv Centre.
Meeting a friend but can't get a hold of him. Figure I'm in for a night of solo laughs… Peer from my brochure and see he's made it. iPhone on the fritz.
Show time.
For those of you who don't know, the Vancouver TheatreSports League is a not-for-profit society that's all about improvisation. Think big laughs meets tragedy-ville meets physical theatre.
Tonight's theme is all to do with the holidays. Off-White Christmas looks beyond the fa-la-la-la-la and peeks its head at the consumerism, greed, and well, messiness of the gift-giving season.
Meet our six improvisers: Jeff Gladstone, Pearce Visser, Elizabeth Bowen, Christopher Casillan, David Milchard, and Margret Nyfors. The night is loosely sketched and the audience, well, the filler. We are asked what we want for the holidays, who we expect to see during the festivities, what we like to eat…and with our answers comes the imagination and reenactments of our performers. This is, of course, the beauty of improvised comedy. Each night, is nothing like the one before it.
Our co-hosts for the evening, Gladstone and Visser, were among my favourites. Gladstone is not only quick-witted, but controls the flow of comedy from his fellow improvisers. It is clear that he has stage presence, and can easily make wallflowers of those around him. Visser is no different. He commands attention; however, I felt his power fading in the second half of the show. Maybe he took a back seat to allow the others to shine, or the skit itself ran a little too long? Needless to say, I wasn't as engaged.
As for Elizabeth Bowen…I wasn't a fan…that is not at first. Her improv skills aren't the most refined. At times, her comebacks are slow, and not as witty as say Gladstone. Her voice though is quite beautiful. She came to life during the musical number, but still lacked quick-fire rebuttal. Same goes for Casillan. He seemed content with his small interjections but wasn't very daring. Rather he was quite safe. Would have been nice to see him take more initiative on stage—take creative license in his characters and in his interactions with others.
David Milchard had his this guy is funny moments. While he was more in your face then Casillan, he wasn't necessarily the zinger-man. This duty fell more on Gladstone and Visser. Can't say if this has anything to do with talent or if it's a case of bigger personalities equals bigger presence.
Nyfors on the other hand is a piece of work. This is the second time I've seen her at the Improv Centre, and she's quite a character. I think it's the face twitch. Whatever it is, her physical humour in on point and her odd accents…well, they make me laugh.
I liked the ethnic jokes. A little off-the-cuff is fine by me. (Plus, political correctness…who needs it?) Some scenes gelled more than others. Opening night gitters? Perhaps. And while the musical performance was cute, it was a little drawn out for my liking. Otherwise, good performance. Can only see it getting better.
If you need a good laugh, go!
Off-White Christmas c/o the Vancouver TheatreSports League (at the Improv Centre at the entrance of Granville Island) runs until December 23rd. For show times, tickets and more, go to www.vtsl.com.
Posted on:

18 March 2016

By:

Administrator