Spooky and Gay: Who says Halloween is only once a year?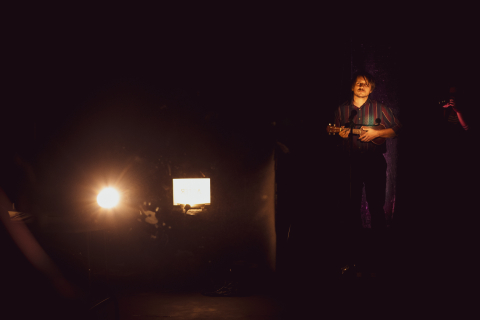 Spooky and Gay is a queer horror storytelling cabaret written and performed by award-winning playwright-performer, Bruce Ryan Costella. The cabaret is a one person show featuring scary stories, songs and standup. 
The title of the show is truly what the cabaret is about. Spooky, original stories, catchy songs and funny standup bits mainly targeting the queer community. If you're not a part of that community, you may not be able to identify with the topics or understand the jokes. However, the title of the show speaks for itself. It addresses its target audience and the show creates a safe place for queer community. The show alternates between spooky stories and comedic presentations.
Bruce Ryan Costella is truly a performer. This is caused by his empathic personality and his talent to capture the attention of the audience. He is a talented singer, actor and storyteller and watching him talking onstage felt like listening to a friend.
I recommend the show to any member of the queer community who loves Halloween, original stories and standup.
Posted on:

12 September 2022

By:

Anika Fischer