Romeo Et Juliette
A new opera season's second production was the famous classic tragedy of Romeo and Juliette. Original play by Shakespeare, this opera version is by a 19th century French composer Charles Grounod, best known for his Ave Maria and opera Faust.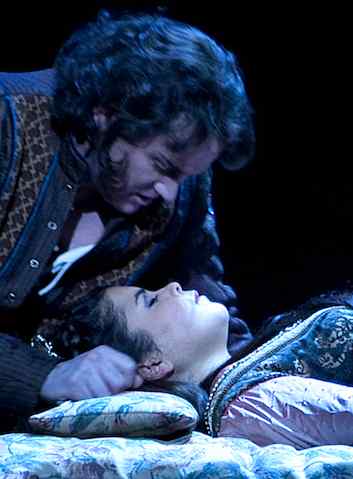 Grounod's Romeo and Juliette has a special place in the hearts of music lovers.
First of all, it is sung in French, that eloquent language of love and passion. For those of you who do not speak French, do not worry! The subtitles are provided. Yet, honestly, you could manage to enjoy the music and the play without reading the lines. The story, after all, is a familiar one.
Second, instead of usual three duets of Romeo and Juliette, this opera has 4.
The first duet is of course the meeting of Romeo and Juliette at the Capulet banquet. It is here that Romeo starts with brushing against Juliette's hands and ends up kissing her. The cupid's arrow pierces the hearts of the main characters. The spell is cast.
The second duet is the famous balcony episode outside of Capulet castle. Here Romeo eavesdrops on Juliette's innermost reflections on her newly born love. It ends with more kisses between the lovers, as well as promises of love forever and plans of secret marriage.
The third duet takes place in Juliette's room after the fatal killing of Tybald by Romeo. At first the lovers grieve, but slowly the scene changes into the first legal (at this point were already secretly married) and long-awaited wedding night.
The final duet is a surprising interpretation of the cemetery scene. Here Juliette wakes up finding Romeo still alive next to her. In her love frenzy, Juliette dreams of their life together away from Verona (remember, Romeo is expelled for his murderous act), failing to notice Romeo's poisoned body and soul. Impatiently convinced that Juliette was dead, the tragic hero took poison for he desired not to live without his wife. Romeo notifies Juliette of his crazy act, which in turn calls for another crazy act, this time on behalf of Juliette. She pierces herself with Romeo's dagger. The two lost souls ask the heavens forgiveness for their sins just before falling dead in unison.
Romeo, performed by Gordon Gietz, with his somewhat softened tenor, compliments Juliette's, performed by Simone Osborne, strong and clear soprano, the kind that tickles your very soul.
Finally, this opera's musical interpretation is worthy of acknowledgment. Although Grounod's composition is not as stunning and memorable as that of Verdi's or Rossini's, it is nonetheless as imaginative and as full of passion.
As far as the performance goes, Jacques Lacombe's conduction was impeccable. Simone Osborne's soprano is really unforgettable. While Allison Grant's direction certainly gave pleasure to the senses on all levels of aesthetical enjoyment.
Besides the stunning Juliette, the following performers did a high quality job that added on to the overall good performance:
Capulet - John Avey
Mercutio - Aaron St. Clair Nicholson
Stéphano, Romeo's page - Julie Boulianne
Frère Jean - Angus Bell
(Photo: Simone Osborne as Juliette; Gordon Gietz as Roméo. / Photo Credit: Tim Matheson)
Posted on:

18 March 2016

By:

Administrator