Nevermore: The Imaginary Life & Mysterious Death
CJSF volunteer Jessica Bruhn reviews the gothic landscape of Edgar Allan Poe's life in Nevermore. The play depicts Poe's psychology fused with his lingering myths is a haunting and dark comedy that will resonate with each of our tell-a-tale hearts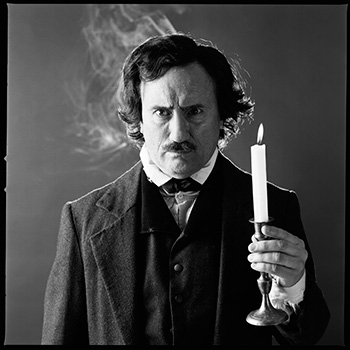 On Friday, January 24th, I went to see the musical, "Nevermore," a show part of the Cultural Olympiad and Push festival taking place between February and March for the Olympic tourists and locals intrigued by the gothic splendor and hidden marvels at a closer examination of Edgar Allen Poe's personal life.
With a combination of mime, awkward, staccato movement and an impressive score, the cast of Nevermore held strong throughout the often-disturbing imagery and cohesion of scenic elements from "behind the veil." The majority of the show's dialogue consisted of two alternating narrators, often recounting gruesome events that molded the dark author's eerie constructions of life's little horrors in a way that would give any adult at least a mild case of the shivers. With towering, disembodied horse's heads, an adorable life sized black kitten and the ultimate rejection, Poe faced as a displaced orphan and foster child relates a charming, esoteric, albeit simplistic take on the developing master of horror. Between shallow love affairs and his remaining family's constant bouts of mania and depression, poor Edgar survived on his wits and affinity by jotting down the terrible things that allowed him to love. The show delves into childhood bullying, graphic depictions of animal abuse but moreover, Edgar's resolve to stay true to his heart and not necessarily his "charming disposition."
The production had a primary cast of seven actors. Versatility and the ability to transition between personalities was an essential part of this production. With most of the action revolving around Edgar (Scott Shpeley), solos and duets mourning the multiple deaths of Eliza, Edgar's mother, Henry (his brother) and Fanny (his foster mother) seemed a continuing trend, only ever broken by two emotive duets between the vacuous Virginia Clemm (first wife and cousin) and Elmira Royster. While brilliant characterization, which was faultlessly encouraged by a dazzling costumer, Sheena Hung, illuminated the lack luster foster father, Jock Allan as someone practical and not without his own ambitions. Muddy Clemm played his aunt and matchmaker to Edgar brought home the eeriness of Edgar's situation. When a man wasn't suited to business and science, he was turfed out as soon as Jock Allan could find a new wife that could bear his own children and not the Poe family's run-offs after Fanny went insane.
What was perhaps the most dazzling translation of Poe's works to the stage was through innuendo and intersexuality, ingrained in director Jonathan Christenson's writing. Poe's famous short story, "Premature Burial" was referenced when Eliza was carried across the stage in her tomb with hideous hands, attempting to claw her way out. "The House of Usher" was equally honed and brought to light by Shannon Blanchett's stunning haunting of Mrs. Samuel Osgood introducing boy Edgar to his new foster house. Jock Allan's incessant pressure on Edgar to succeed was portrayed with the same unrelenting rhythm as the pendulum from "The Pit and the Pendulum." A touching yet disturbing origin of Poe's "Life of the Black Cat," was when he received a black kitten from Fanny only to want to kill it as a boy resonated deeply with growing adolescent angst. And of course, Poe's most famous Raven made his appearance multiple times.
While every actor except for Shpeley alternated narrative duties, the perpetually bewildered and quizzical Edgar never stopped writing with a book, quill and ink, the last gift he ever received from his mother. While Poe's alcoholism was represented as well as "chronic" melancholy, his striving to achieve literary greatness sadly was not achieved in his lifetime. However, now, the name Poe does live on, not by adventurous Henry but by a man who perhaps never retained the simple constancy of love we often take for granted from a parent or partner.  
Posted on:

18 March 2016

By:

Administrator