The Incompleat Folksinger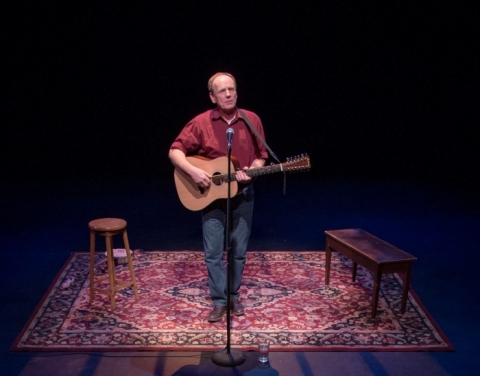 In the one-man show The Incompleat Folk Singer, Victoria-based actor Mark Hellman gives a solid performance in his rendition of the life and times of political activist / folksinger, Pete Seeger. The show, which was produced by The Other Guys Theatre Company—with artistic direction by Ross Desprez, musical direction by Tobin Stokes, and lighting design by Rebekah Johnson—was based on Deprez and Hellman's adaptation of Seeger's 1992 autobiography, The Incompleat Folksinger.
Just as Pete Seeger said that "a good song reminds us what we're fighting for", Hellman's performance reminds us of what Seeger was fighting for: "defense of the poor, the oppressed, and the exploited; always to inspire, enliven, encourage, delight and to tell about the lives of everyday working people" . With a twang in his voice, and a banjo on his knee, Hellman takes us on a journey.  From reenactments of Seeger singing for labor unions and in concert halls and television appearances, to the accusations of the House UnAmerican Activities Committee, Hellman circles back to such the question "Which side are you on?" to demonstrating Seeger's commitment.
With a background in theatre, film/TV and education, Hellman brings Seeger's autobiography to life not only through story and song but also through his portrayal of the folksinger—from accent and speech patterns to Seeger's characteristic pausing. As Hellman takes us through Seeger's life, we are presented storytelling at its finest with the wise words of one man who spoke out against injustice for almost seventy years to music that changed a generation. Like a finely tuned craftsman, Hellman weaves Seeger's music and words through the chronology of Seeger's life in such a way that it is hard to separate the two. While one feeds the other, it is also apparent that Seeger's life was his music and his music was his life. Hence, as I sat in the Firehall on that rainy Friday night, for a moment I forgot where I was.
And yes, with "Kisses Sweeter Than Wine", the audience did sing along, inspired by the courage and simplicity that was Seeger, and awed by the portrayal that was Hellman. While the show is both entertaining and inspiring because the premise is reflective of a time when one man had the courage—through music and activism—to stand up for social issues, it's hard not to go away feeling nostalgic.
And so, as the audience exited the Firehall Arts Center, spilling out onto the street, I made my way towards my car being especially attentive to my surroundings in this destitute area of Vancouver's Downtown Lower Eastside. Unlocking my car, I looked over at the homeless people—barely ten feet away—who were setting up shelter for the night and wondered: "what would Pete do?'
Pondering this question, this surreal moment, these homeless strangers took notice of my presence and stared intently at me. I stared back. And as I did, Pete Seeker's words rang out—spilling out onto the street:
we shall overcome someday . . .
Hellman's one-man show was seen before a live audience at the Firehall Arts Center, in Vancouver, from November 4 through 14, 2015.
To listen to CJSF interview with Mark Hellman:
The Arts Edge (with Annie Roach) CJSF, Saturdays 6-7 p.m.
Posted on:

18 March 2016

By:

Administrator