Holiday at the Elbow Room Café: Where it Disappoints in Adult Humour it Makes up for with Sequins and Charm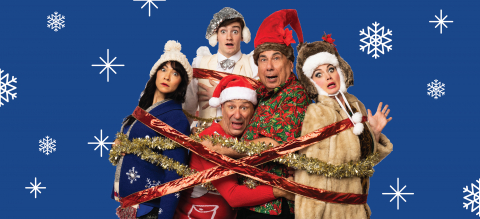 Styled as a club-ready country girl from the early 2000's, complete with big hair and loud mouth, the charismatic Tabby, played by Emma Slipp, opens Holiday at the Elbow Room Café with a bellowing rendition of the show's theme song. The play, written by Dave Deveau and directed by Cameron Mackenzie, traps a small group of oddballs together in the Elbow Room Café during a snowstorm. Based on the real restaurant which is now closed, the play is in memory of its owner, Bryan Searle, who passed away in 2017 at the age of 87.
The characters in question: a doe-eyed Amazon delivery boy, a sexually repressed food inspector, and a vivacious Texan are joined the stage by bickering husbands, Patrice and Bryan. Joey Lesperance and David Adams paid beautiful tribute to the icons and restaurant owners, Patrice Savoie and Bryan Searle through mannerisms, the accents, and the costume design. The first surprise of the evening featured two synchronized backup dancers, dressed in matching Christmas onesies, joining in on the opening song. Breaks of the forth wall and David Underhill emerging as a queer angel from the balcony also garnered similar laughs and provided some of the best moments of the night. 
 While the randomness kept the belly laughs consistant and saved the show from the repeated and predictable dick jokes, i was left wondering where the insults were? Sexual innuendos and backhanded comments flew about, but the promise of adult humour for a 19+ crowd had me hoping for more. This play included original music and adapted Christmas classics, including a version of "The 12 Days of Christmas" about needing to pee. Humorous, but again, it felt a little juvenile. 
I was pleased to find the best song came from one of the minor characters, Amazon Boy, when he broke out in the three different renditions of "Two Dreidels and a Ladle". Everything about this number worked, from the complete arbitrariness, to the back arch and the dim red lighting. The originality of this song appearing late in the second act was a breath of fresh air. After this peak, the play rolls back into the plot. Patrice gets all dolled up, while Holly takes some clothes off, and Amazon Boy, is, uh, still making package jokes.
In the end, this play was surprisingly sweet and touching with Patrice and Bryan's relationship is a main focus throughout. Lesperance and Adams are so believable as loving squabbling husbands, it was quite heartwarming. While I was dissatisfied with the sexual repetition of the use of 'inches',  I ultimately left feeling good, so maybe that is the point. 
Is there such thing as an original dick joke anyways?
Posted on:

19 January 2020

By:

arts and entert...