Goggles
CJSF volunteer Lise Monique unfolds the mystery, drama and crime of Goggles showing at the newly renovated CULTCH. Her voyage through the one-woman act of  Tara Cheyenne's performance lead her to experience this bone-chilling black comedy that intertwines theatre and dance, here is what she had to say about it...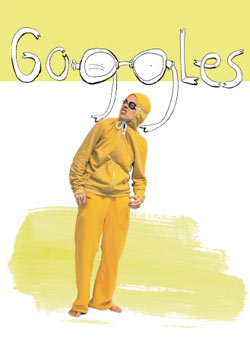 On Thursday November 18th, performance artist Tara Cheyenne worked her way through a one-woman show, Goggles, at Vancouver's new and improved CULTCH centre.
Admittedly the evening was enthusiastic to begin with, as it was my first time visiting the newly renovated CULTCH. As it sat vacant and under tarps for many months it was nice to see the updated touches evoke the same east Vancouver feel as the CULTCH did before. Another added feature to the Cultch's new look was their year performance calendar, which is how I found out about the performance. Goggles, described as a one-woman show, lasting just over an hour, how could I not escape this?
Chilling from the start, Tara Cheyenne's performance was undoubtedly remarkable and fascinating. For any performer to give depth and dimension to a lone black stage and entertain for 65 ticking minutes, it is no doubt, a standing ovation spectacle.
With movement that was present and child like, and a character as well developed as a McDonald's cheeseburger, Tara really played the audience with dramatic effect. The theme of obsessive behavior over crime scene investigations drew on CSI as inspiration. Let's just say I was impressed that this one human being could have as much energy as she did and keep the audience laughing and entertained. Another high point of the piece was the music production, which happens to be done by her husband. His sound effects and instrumental pieces played the part of many other characters.
For more information on the Goggles performance visit:
Posted on:

18 March 2016

By:

Administrator