Evil Dead: The Musical
On November 3rd, CJSF volunteer Jessica Bruhn attended Down Stage Right Production's Evil Dead: The Musical playing at the Vogue Theatre. Evil Dead proved to be a bloody affaire, this is what Jessica says.......
On November 3rd, I was lucky to attend Down Stage Right Production's Evil Dead: The Musical. With a growing reputation for camp having previously orchestrated the beloved cult classic The Rocky Horror Picture Show, adopting Evil Dead isn't too much of a stretch. Complete with catch-phrase chanting fans and the musical compositional styling's of Fank Cipolla, Christopher Bond, Melissa Morris and George Reinblatt, some notorious plot inconsistencies from the original Evil Dead film scripts seem to matter less.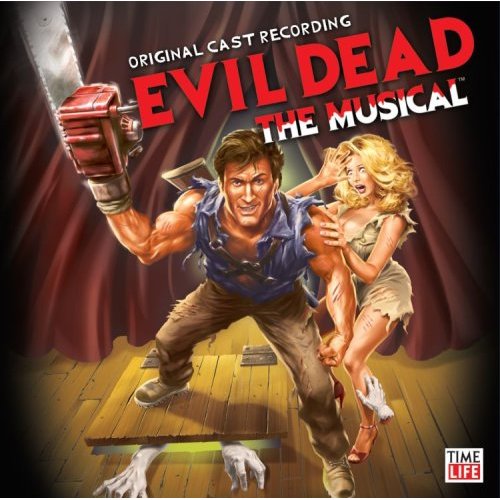 Indeed, some notably favorite tunes included the sardonic and saccharine "Housewares Employee," the charming duet explaining the magnetic charge between led Ash and girlfriend, Linda, who met at their beloved employer's, E-Smart. The "If I was a Rich Man" inspired "What the Fuck Was That?" is a truly singable piece that somewhat compensated for the notoriously annoying Scotty's failure to present any point to the plot other than generic asshole. However, Mat Baker shone as Jake, the largely maligned Southerner who leads Annie and Ed to the demonic cabin, taken from Evil Dead II. His impressive solo, "Good Old Reliable Jake" truly made my night, which proves to stage directors everywhere that including a loveable hick equals comic gold. Perhaps the driving force behind half the songs was Jennie Neumann, who performed admirably as the first converted Canadian demon at the lodge, leading the heart-rending "It Won't Let us leave," the brazen, "Look Who's Evil Now," "Join Us," -- a duet with a melodic moose, and "Ode to an Accidental Stabbing," which speaks for itself. 
Evil Dead showcased the entire cast's talents in some way, however Scott alters as Ash pronounced himself by shifting his character's humble nice-guy approach to the renegade egoism we all know and love after killing Scotty's girlfriend, Shelley, Linda and the Bit Part Demon, Ed. Matthew Graham's emphatic resignation as not posing much of a threat became an endearing ode to bit-part players everywhere. Constantly upstaged by his girlfriend, Annie (Meghan Gardiner) only as a demon does he command enough respect to sing an entire phrase without interruption. 
For the ketchup bottle fetishists among us, the Splatter Zone seats at the front would most likely suit your particular needs, but with well staged decapitations, dismemberment and quite the resentful rogue hand, one can't help laughing at how dead the Evil are. Here's looking forward to next year around Halloween for DSR's next venture.
Posted on:

18 March 2016

By:

Administrator