Top Less, Bits & Bites
A few weeks back my friend Tara invited me to dine with her at any one of the Glowbal Group restos. She provided a gift certificate and all. Yes, yes, yes!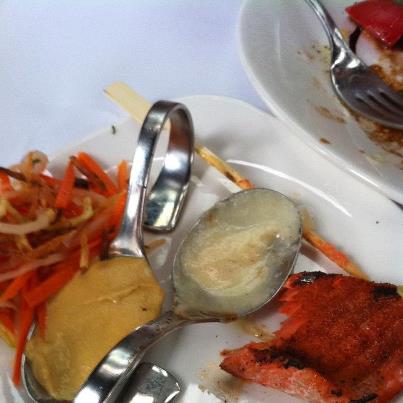 So yesterday, after a hectic day of cleaning—I'm talking every closet imaginable—I give myself a quick look in the mirror, apply some lilac shadow, a swipe or two of mascara and blush, throw on some black tights (in June might I add) and a sundress, black patent heels and a red clutch and I'm good to go. Still I managed to obsess over my new fringe for a good five minutes. Curse the day I got that trim on the Drive. You tell someone you want it thinned out and instead you get one centimeter bangs, curly hair and wisps along my forehead. It wasn't good.
Tara and I hopped into my ride and made our way to Yaletown. On a mad hunt for free parking (which does not exist) I finally gave up and parked slightly outside the cobblestone way, where we dropped four bucks for two hours. How I despise coin meters.
For those who have yet to go to Glowbal Grill, or just don't know it…well, here's the honest low down. Think chain restaurant but kicked up a notch. Think servers in black minis, shortened more than a notch. Think good service but almost too attentive. Think nametags, watchful eyes and corporate dining with a splash of fine dining masquerade.
Tara ordered a calabrese salad with a massive dollop of soft young bocconcino cheese, and two salmon satay skewers with a mustardy wasabi and garlic dip. I stuck to the wild mushroom risotto. The plate was garnished with arugula but lacked saltiness. Within seconds of thinking it, our server, Tamer, grated fresh parmesan on the dish, and peppered both our meals. It was lovely. Not to mention, he is one of the manliest men I've seen in quite some time. Imagine a six- foot-something Daddy Warbucks with a wicked tan, and a gentle demeanour. Okay, that doesn't quite cut it, but go there and you'll know what I mean.
Apart from our manly man, the risotto gets one thumb up, if that. While the base was rich and the pasta perfectly cooked, the mushrooms were too raw for my liking. They weren't sautéed enough to take in the sauce. Rather they were an afterthought, simply added at the last minute leaving the dish lacking harmony. As for Tara's salad—she wasn't too fond of the tasteless cheese. Let's leave it at that.
Had there been no gift certificate, there would have been no Glowbal. The tables were one on top of the other, leaving not much room for privacy, let alone comfort and the service was too much. I'm probably the first to complain about clearing plates too quickly but I'm not a fan. It's lovely that they're on top of it, but I shouldn't finish my meal and have my dish catered away in the next minute. It's a restaurant not a cattle feeding line. I'd rather the food be great than the service. Don't get me wrong, I'm not into shit waiters, but I'd rather have some more leg room, a smaller menu (side note, yes, but the physical thing is ridiculously huge), less circulating staff and better food.
We made our way to the washroom before leaving the joint. Just before I reached the WC, I was distracted by a red neon sign alluding to some clubesque lounge. All I knew was I wanted to take a piss and get out of there so I made my way into the three-stall bathroom where I saw a lovely cup full of toothpicks. I grabbed one and pick my teeth before sitting on the throne. What a random thing to have in a restaurant that boasts a top steak for $120. I felt like something didn't quite fit.
With dinner done (thanks Tara!) we made our way to FiveSixty to take in the video release party of Top Less Gay Love Tekno Party. This has to be the second or third time I've been to this venue, and might I say, perfect for live music. I love the projected visuals, and the four thousand bars littered on each side—not to mention the second floor that overlooks the stage and, well, the entire place.
Tara and I grabbed our drinks and made our way to the top deck where we planted ourselves on cozy leather chairs. It's was close to 9:30 when we found out Top Less wasn't playing till about 11:30, maybe midnight. I suffer from a social disease. In summary: I'm 32, I didn't sleep a wink the night before, my shoulders were super tense from me leaving town soon and all this bloody computer work, my jaw was on fire, I was bloated from all the risotto and neither I nor Tara was going to make it till midnight.
The first act was okay. I liked the wall visuals. The band (which I think was My Bear Mountain) was moving and shaking the crowd but didn't do much for me. Yes there was a synth, and a double guitar (which I might add, very cool for some reason) and a must-have drummer, but there lacked electricity or newness. Rather it sounded like much of the indie stuff out there now. The second band (Sunshine?) and I went from trying to get Tara to stay with me until Top Less played to agreeing it was time to go. Too rocky, too electric, too not my style and not even seeing Top Less live wasn't going to make time go by fast enough to stick it out. Ah yes, brevity and opening acts. Now I get it.
In the end, I bailed before even getting to see Top Less' music video for single, Robin. Nor did I see one the reputed no-holds-barred live performance. I was both chocked and fine with it at the same time. It would have been nice, but seeing that I got to hear them play live in studio on my radio show this past Sunday, I think I'll be okay. They are a talented bunch.
We drove home after what feels like a going-out ordeal. Odd I tell you. One minute I'm hitting the club, dancing four nights a week, going out, being out. And now I'm 32 and have no desire. Instead, I come home and decide to watch a couple of documentaries about floppy veejays and tiny peckers. Now what's that all about.
Quality over quantity anyone?
Posted on:

18 March 2016

By:

Administrator