CJSF Funded Radio Documentaries Premier on World Radio Day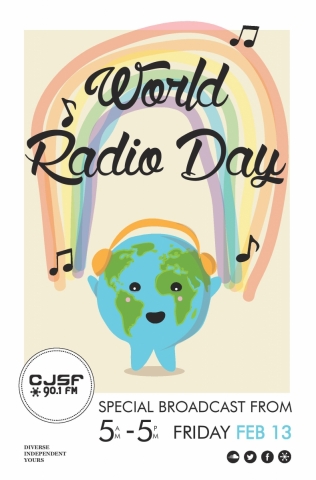 On Saturday, February 13, CJSF will celebrate World Radio Day by premiering eight documentaries funded by its Making Time for Radio Project grant. Produced by emerging local radio documentarians, this collection of captivating, entertaining and enlightening documentaries will air between 12pm-2pm. 
Produced last summer and fall, these documentaries - the first half of a sixteen-documentary series - cover a broad range of subjects. In particular, CJSF's World Radio Day broadcast will feature stories from survivors of war and sexual assault, climate justice activists, poets and rural Canadians, as well as stories about the suicide crisis in professional hockey, the nature of generosity and venerable local music venues.
 The aim of World Radio Day is to raise awareness of the importance of this medium worldwide. Radio is a forum for public discussion that isn't presupposed by someone's socioeconomic status or level of education. CJSF is proud to present these eight documentaries along with other World Radio Day special programming on February 13, starting at 10am.
 Volunteers drive CJSF and community media, but not everyone can make time to volunteer. The Making Time for Radio Project supports those passionate about community media by creating paid opportunities to produce radio documentaries that explore important issues and tell compelling stories.
 "The idea of the project is to create a situation where people can engage in some of those more ambitious types of programming in a way that's practical and feasible within [their] other life commitments," CJSF station manager Magnus Thyvold told the Peak last May.
 The Making Time for Radio Project was made possible by a $50,000 grant from the Community Radio Fund of Canada (CRFC) --- the largest in CJSF history. This grant funded the production of these eight documentaries, as well as a series of workshops on radio production, interviewing, story structure and script writing.
 If you can't listen to the live broadcast, please visit www.cjsf.ca after February 13 to stream them off the web.
 About the documentaries and producers:
 Ulla Laidlaw, I have nothing to give, I have everything to give
The concept, or human ability to be generous has fascinated intellectuals and has been studied by experts across the board.  But what happens when we start to give what we don't have, or what we think we don't have?  I have nothing to give, I have everything to give begs us to rip the bandage off our feelings of scarcity and dares us to enter a deeper experience of generosity.
 About Ulla:
Ulla Laidlaw is an independent filmmaker and theatre director whose work explores poetic representation of a person's solo journey towards transformation.  Her work has been shown in a variety of settings and mediums across Canada, including at Vancouver Alternative Fashion Week, SummerWorks Festival, and on CBC.  I have nothing to give, I have everything to give is her first piece for radio.
  Tello and Aurora Tejeida, The Long Journey Home
Nati Garcia's childhood was marked by questions. The daughter of Guatemalan refugees didn't know where her parents came from or why they fled. In fact, they barely spoke. So when she was sexually assaulted at the age of eight, she didn't know who to talk to. This documentary explores what Nati went through to heal and discover her own past.
 About Carlos and Aurora:
Carlos Tello is a freelance multimedia journalist based in Vancouver. His work has been featured in, among other publications, the Toronto Star, Vancouver Observer and the Vancouver Sun. He is interested in arts and culture, human rights, social justice, Latin American issues, and everything related to his home country, Peru.
 Aurora Tejeida is a multimedia journalist based in Vancouver whose work has appeared in Vice, The Tyee, and the Toronto Star. Her main areas of interest are refugee and migrant rights, culture, and social justice.
 Madeline Taylor, I am a Fruit Tree  
Shiraz Ramji is a man about town in a way not many people have seen before. He is a student, an activist, and a loving storyteller who spreads his message of peace by making friends. He will give you poetry, hummus and hugs, all to fight injustice the world over.
 About Madeline:
Madeline Taylor is a recent SFU grad with an honours degree in history. She has volunteered with CJSF 90.1FM for two years, and currently works at UBC's CiTR 101.9FM as their spoken word coordinator. Madeline is passionate about storytelling, anti-oppression, and democratizing media.
Rebecca Visser, People Powered: The Activists Behind Vancouver's Climate Justice Movement
Climate change is the most complex problem in human history. While we face many mitigation challenges, people globally are fighting back against idle leaders and big corporations. Inspired by those on the movement's front lines, this documentary catches up with three Vancouver-based activists and examines what motivates them in the fight for climate justice.
 About Rebecca:
Rebecca Visser completed her undergraduate degree in Communication at SFU in 2014. She's passionate about environmentalism, feminism, and urbanism. Rebecca is a journalist on the current affairs program Redeye, airing on Vancouver Cooperative Radio CFRO 100.5 FM. When she's not making or listening to radio you can find her sampling Vancouver's finest craft beers or at a local rock and roll show.
 David Peck, Toward Inclusion
Cambodia is one of the most heavily land mined countries in the world -­ still with about millions of pieces of unexploded ordnance and landmines in existence. According to the HALO Trust, "over 64,000 landmine casualties have been recorded in Cambodia since 1979, and with over 25,000 amputees Cambodia has the highest ratio per capita in the world."
 Accidents occur often. Cambodians with these injuries are often disregarded as viable in a culture that fears, misunderstands and ignores their gifts and abilities. Towards Inclusion follows one man, Mean Sokhum, a guide at the war museum in Siem Reap, Cambodia, and his fight for work, respect and dignity as a person with a landmine injury .   
 About David:
David Peck is an academic, speaker and social change consultant from the Toronto area, advocating for health, literacy, and restorative justice both nationally and internationally. He is the producer and host of the Face2Face podcast, and has written for a number of publications including the Huffington Post. 
 J Peachy, Hockey Suicide Crisis
In the wake of a number of high-profile suicides of hockey players, both active and retired, the world of professional hockey is coming to terms with a mental health crisis. In Hockey Suicide Crisis, J Peachy explores responses to this crisis: how has the culture of hockey changed in response to these suicides?
 Is there still a stigma attached to mental health issues in the sport? What support systems are now in place to help players struggling with these issues? J will answer these questions in Hockey Suicide Crisis, expected to be the first in a series exploring men's mental health issues as they relate to professional sports.
 About J:
J Peachy is a multidisciplinary artist, co-producer (with Katherine Krampol) of CJSF's Sound Therapy Radio and founder of the Canadian Sound Therapy Arts Society. J combines mental health and environmental advocacy through a number of arts-based initiatives, and can often be seen with his dog Star and sidekick CJ the Sock Monkey.
 Elaine Harder, How Radio Opened Up the World for a Small-town Prairie Girl
In the 1930s, radio broadcasts brought the world into the homes of many folks in such far-flung places as the Canadian Prairies. In this documentary, Saskatchewan native Marion Jorgenson (nee Roach) tells the listener about hearing radio for the first time and how it essentially changed her life: how radio brought fear and excitement into her family's three-room farmhouse with news of the war overseas, how it conjured laughter with such comedies as Jack Benny or Fibber McGee and Molly, how it inspired faith with the Pope's Speech on Christmas Day, and finally, how it opened up the world to young Marion, illuminating opportunities unlike anything she'd ever seen or heard of, at least not in her native McGee, Saskatchewan.
 About Elaine:
Elaine Harder (a.k.a. Annie Roach) is a Vancouver-based writer, educator, and radio personality. She has been volunteering with CJSF since 2011. As the host and producer of The Arts Edge--a weekly radio show that profiles the arts and innovative ideas, as well as interviews with artists, educators, and everyday people--Elaine is especially interested in looking at what inspires people, and how they make their dreams happen. As a graduate student, in her final year of SFU's Master of Arts program in Arts Education, Elaine is developing a thesis in which she is exploring how "community radio acts as an artistic and a pedagogical platform for exploring and performing identity."
  Matek Lewzuk, Past Patricia Present
The city might have grown and changed around it, but the Patricia Hotel has remained a fixture in Vancouver's Downtown Eastside since opening its doors over a century ago. Matek Lewzuk's documentary, Past Patricia Present, traces the hotel and music venue's history and changing roles: as lodging for loggers, then the birthplace of jazz in Vancouver, and finally a hub for today's independent musicians.
Posted on:

18 March 2016

By:

Administrator