Vancouver Folk Fest
For 38 years running, the Vancouver Folk Music Festival marks the middle of summer for the fair city, and yet this 2015 edition of the hippy/hipster mainstay at Jericho Beach Park felt extra luminous.  Amazing weather (if you like it real hot and dusty) and 60 artists from 15 countries made this the most schizoid cross-cultural yet relaxingly accessible urban festival of the year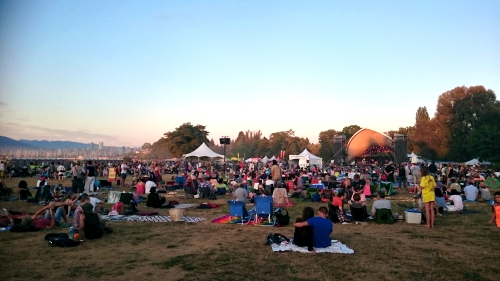 Ironically, VFMF takes place the same weekend that tens of thousands of Lower Mainlanders pour out of the city, heading north to the sophomore edition of the Pemberton Music Festival -- VFMF is indeed lacking strobe lights, potent chemical drugs, and the option of concentrated overnight camping.  But the new-giant-festival-on-the-block didn't hurt VFMF attendance, roughly 36,000 strong over three days.  Large and joyful crowds of all ages and hair styles folked their hearts out, enjoying a slower-paced and more humane experience than those sinister rumblings in the mountains to the north.  Artistic director Linda Tanaka did another brilliant job of selecting a wide spectrum of artists to satisfy the vast fan base of anything it is we call folk…  If there were more synthesizers and samplers on these stages (I counted only three), maybe fewer people would leave town for the weekend.  But they would probably need to drop the term 'folk'.
Just as every game of chess is unique, so is every festival experience.  So here is but one man's account of two days at VFMF.  If I leave out your favourite group, I was probably having my mind blown by an African band instead.    
I arrived late Saturday afternoon to a still-sizzlin' Jericho Beach, and quickly snuck off to stage five, my personal favourite, in the back corner of the fest.  This sort of hidden spot by the pond always hosts first-time VFMF bands and many hidden gems. Sousou, a Swede, and the Senegalese griot, Maher Cissoko, were conjuring some very pleasant Afro/indie pop music led by Maher's ace kora playing. Then came the talking drum solo, and people jostled to get a clear look at the Senegalese percussionist, whispering to each other, "what's making that SOUND??" After foraging for blackberries by the duck pond, I caught local Latin soul band Tanga and the Melbourne Ska Orchestra sharing the same, sunny stage. Some of these collaborations are called 'workshops', but this one was a straight up throw-your-hands-in-the-air jamboree.  The MSO (part of a suspiciously large contingent of Australian performers) were a throwback to the good ol' days of '60s ska music, and thankfully sounded very little like a Sublime cover band.
Just before dusk, the always-dependable Sadies gave a standout performance of their unique brand of surf-rockabilly goodness.  Lead vocalist Travis Good apologized halfway through their set for not talking between songs, as many folk artists are prone to overdo as they tune their many analog stringed instruments.  The Sadies' catalog is deep, so they packed as many songs as they could in their short 45-minute timeslot while their guitars drowning in reverb. Some brave girl climbed a tree and others danced herky-jerky by the sides of the stage, plotting their future attack on the beach chair squatters lounging unaware in the would-be moshpit.
One thing you have to admire about VFMF is the lack of canned music blaring from speakers.  Even between sets on the main stage, there are mini-concerts from artists who get a full showcase elsewhere at the festival; most artists will perform at least twice over the course of the weekend.  South African singer-songwriter Bongeziwe Mabandla eased the crowd into the main event of the night with pretty Xhosa-language ditties, and Trampled by Turtles took to the stage to a thunderous ovation.  Within moments, punk bluegrass fans trampled the poor old turtles sprawled out on their giant tarps and blankets in the front rows.  I couldn't help but feel sorry for the squatters; one woman arrived at 5am that morning to stake her claim to prime real estate. 
This swift attack on the tradition of sitting at folk festivals was a long time coming.  By the time TxT made it to the chorus of their first song, it seemed downright rude to not reciprocate the band's musical energy by jumping up and down wildly.  Their turbo speed bluegrass aesthetic was all the more impressive considering their lack of percussion instruments - six musicians and 31 strings between them.  I have no idea how that acoustic bass guitar sounded so deep.  If Paul Oakenfold were there rather than closing out the Pemberton fest that night, he would have soiled his pants.
Sunday at the Vancouver Folk Music Festival was even hotter than the previous day, and the folkies really had to pace themselves to make it through the afternoon.  Jumping in the ocean helped.  I caught an intercontinental harmonica workshop, some Wilderness of Manitoba, and suddenly it was time for my most anticipated act of the weekend.  Bassekou Kouyaté & Ngoni Ba set a new standard for what they call "African Rock".  The seven-piece family band from Mali swayed back and forth in their angelic silk robes, weaving electric tapestries of frenetic picking patterns over neck-snapping percussion and Amy Sacko's mesmerizing Bambara vocals.  The ngoni is one of the oldest instruments on the planet, and it finally got a fair showcase (and wah pedal).
Lucius followed Bassekou Kouyaté with a perfectly civilized art-rock performance of minimalist percussion and soaring voices, and Phosphorescent peppered just enough psych into their country rock to match the energy of the previous bands.  In between all this, I stumbled upon groovy Venezuelan foursome La Gallera Social Club, who mixed a generous degree of freak in with their Latin folk.  Electronic textures and drums powered rare South American rhythms, and the Romero twins up front were a perfect mirror of swagger, Fender guitars, and microKorgs.  Back on stage five, the Jerry Cans materialized into one of the success stories of the fest, with the whole crowd square dancing to their endearing Inuktitut country stomp.  The Inuit language goes amazingly well with their Deep South style of music, but I reckon they could do with about 300% more throat singing! 
CBC's Grant Lawrence did a solid job of MCing the main stage throughout the festival, with witty comments about all the happenings over the weekend.  He even razzed his ultra-conservative dad - who came down from West Vancouver for the day - calling him "so right-wing that he thinks Harper is a lefty". 
After the sun dipped beyond Bowen Island and the festival headliner hit the stage, any doubt that Angelique Kidjo could win over the die-hard folkies with her genre-defying West African pop quickly evaporated.  She only had a five-piece band, but they sounded like a heavy funk ensemble rather than the pop you would expect from her studio recordings.  The drummer (honestly, his first show with the band!) and percussionist wove telekinetic grooves and Kidjo spun in circles during instrumental breaks.  Everyone stared in awe.  And her voice, sweet as honey but fierce as a jackal, was laced with just the right amount of reverb to connect with the soul of all humankind.  Angelique Kidjo connected with her audience on multiple levels, challenging them to clap along to complex patterns and dance in unison, prompting a dust storm to rise and drift through the crowd at one point.  She spoke about the necessity of celebrating life each day, women's education, and her musical hero, Miriam Makeba.  A true visionary talent imparted everyone in attendance with the hope that music can be a powerful tool to save humanity.  As the peaceful folkies streamed out of the festival grounds and back to their homes, I don't think many would have preferred to spend one last night in a sweaty tent, in a valley off to the north. 
Posted on:

12 April 2016

By:

Administrator