Vancouver Bach Choir Present: Phantom of the Opera
In one of its many past lives Vancouver's landmark Orpheum theatre, as some remember, served as one of the cities' foremost old movie houses. Embodying that spirit the Vancouver Bach Choir has brought back the old time horror movie to its old home at the Orpheum. In a one time only concert the Choir led by maverick conductor Lesley Dala the classic movie was blended with chamber music in a new and exciting way, the 1925 silent version of the Phantom of Opera (based on the terrifying 1920 french novel by Gaston Leoux of the same name, not the story from the broadway musical).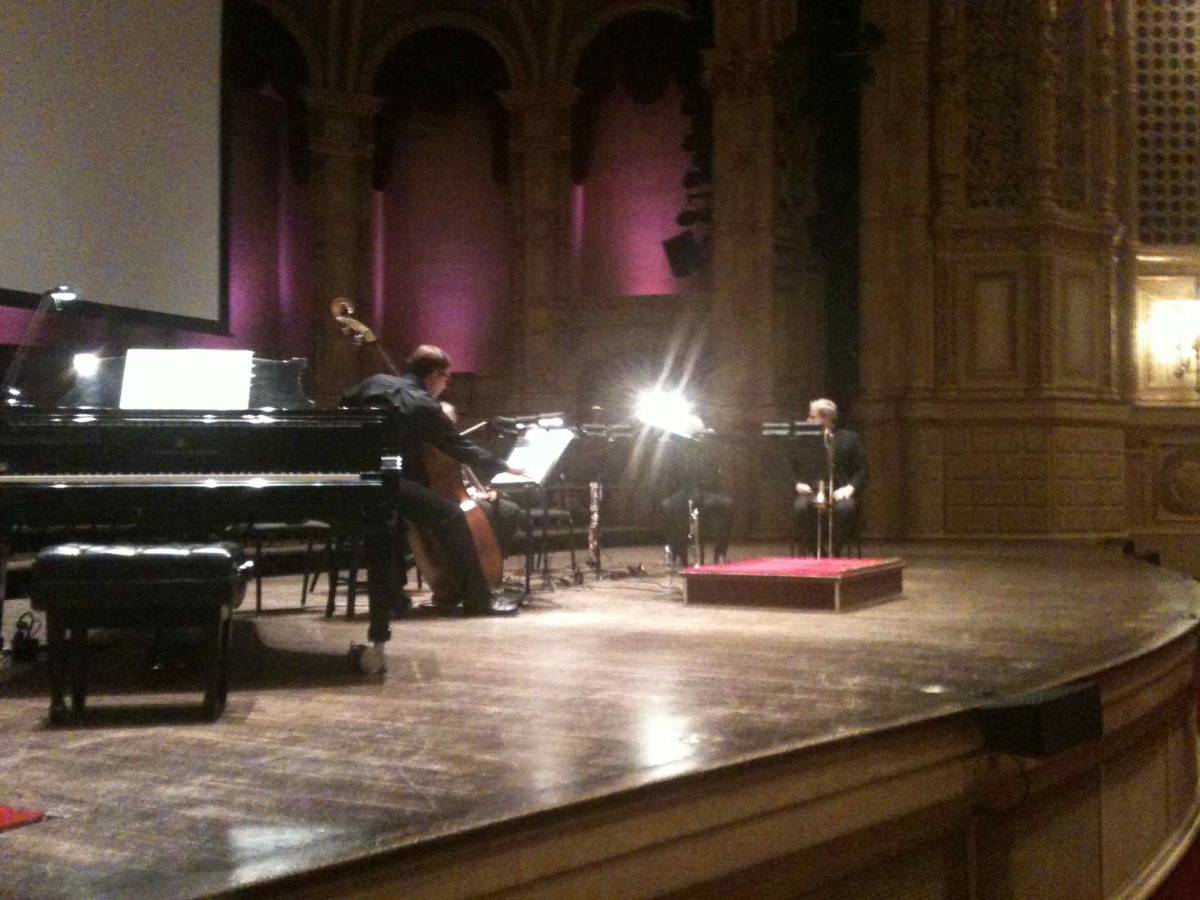 Instead of the usual cheesy piano one finds under a silent film in this presentation is the a brand new composition for large choir written by Andrew Downing. Downing's exciting scores blends perfectly with the film creating extra levels of suspense, narrating out would be silent textual pauses. 
Normally, Bach choir events are accompanied by the full Vancouver Symphony Orchestra however, this one opted for a more subdued approach utilizing the musical reach of Francois Houle on Clarinet, Ingrid Chiang playing Bassoon, JP Carter on Trumpet, Jeremy Berkman on Trombone and Chris Gestrin playing piano and the Orpheum's own antique Werlitzer organ. 
Downing himself joined the septet on double bass.  While most of the members of the band are well known in the Vancouver jazz scene their presence in this event is well suited to the event itself.
Overall, I found the Downing's score provided a haunting background to the film which, from the perspective of the early 2010's is pretty schmaltzy however, I imagine that were I to see in 1925 when it debuted it was probably pretty terrifying. The music, particularly the organ and wayward instrumental back up, help to illustrate the score, creating depth to the film particular in the dungeon scenes where we meet the phantom and understand the backstory a little bit more.
While the facade of the piece is quite impressive, it would have been better had the piece been syncopated to the film somewhat so that they organ parts in the film line up better with the actual organ in the theatre; this likely is due to the fact that the person playing the organ is the same person playing the piano requiring the player to jump off one in favour of the other.
These are pretty minimal complaints in the grand scheme of things and this piece reflects that providing the a audience member with a complete musical and film experience which is both fascinating and at the same time just a little bit scary. 
Posted on:

12 April 2016

By:

Administrator