Toro Y Moi
It's not easy to get Vancouverites dancing, but on February 26th Toro y Moi did their best to turn around Vancouver's reputation of "No Fun City".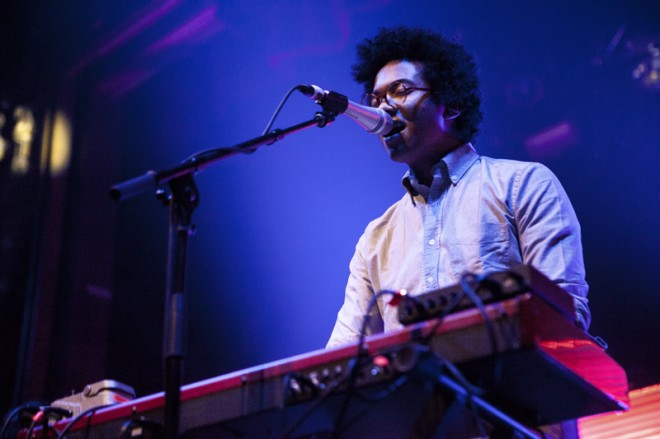 Toro y Moi is the stage name for the American musician Chaz Bundick. Chaz graduated with a degree in Graphic design a few years ago, but seeing as Toro y Moi just released their third album, music has taken centre stage in his life. Chaz started out in the Chillwave genre, made popular by the bands Neon Indian and Washed Out but has moved into a genre of his own, combining elements of pop, disco and funk. After Tuesday's show, it was obvious there is no point in pigeonholing him in one genre, it's best just to stand back and enjoy the music.
The night opened up on a slow note with the band Dog Bite. As the Biltmore filled up their generic sound lulled the crowd to sleep. But the energy quickly picked up. The next act Sinkane warmed up the crowd with their brand of electro-funk. In addition to their electronic style they were also talented guitar players – they earned the respect of the crowd with two prolonged guitar solos.
Toro y Moi came on next with a three-piece band, lit up by what resembled bright neon window blinds. They quickly got the crowd going with their pop vibes, easily danceable and fun. This is music anyone can enjoy, as hipsters, indie music lovers and everyone in between all rubbed shoulders. The band played well together, sharing some chemistry in a tight set. However the night was not without its imperfections.
While it's clear that Chaz is not a master wordsmith, he uses a great beat to distract from their nondescript lyrics. They are in the end, a pop band, so this is of course excusable.
In the end, Toro y Moi put on a great show at The Biltmore last Tuesday. With their indescribable brand of disco-funk they did their best to remove Vancouver's title of "No Fun City". 
Photo from: Emily Kom
Posted on:

12 April 2016

By:

Administrator