Tonye Aganaba at MOA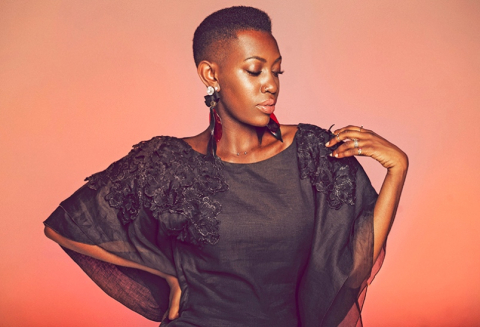 On Thursday, February 13th 2020, Vancouver-based multidisciplinary artist, musician and arts facilitator Tonye Aganaba performed as a part of MOA's sold out program. The museum's event, "Decolonizing Voices, A Celebration of Canadian Black HERstory," in light of Black History (and Futures) month, featured Aganaba, amongst Nya Lewis, Bertha Clarke and Chantal Gibson, as representatives of Black Womxn Canadians.
Through their powerful and intimate performance in the Haida House, located on Museum land, I took part in an evening of music, dance and storytelling. With the smell of burning firewood, and the warmth of the bodies huddled in that cozy space, Aganaba shared pieces of their latest album, Something Comfortable. This non-binary artist offered themself in utmost vulnerability with their openness on being black, gender-variant, coming from an immigrant family, and suffering from Multiple Sclerosis.
Demanding nothing less than absolute respect, Aganaba boldly opened with how racism was rampant in their life, in the people they dared to call their friends, on that very day. With a calm and undoubtedly heavy tone, they declared the validity of their personhood with a quiet kind of urgency that hushed the audience. Then, they began to sing. Unbeknownst to me, Aganaba and their larger-than-life personality, (even amidst the heartbreaking news that started the night), demonstrated one of the most powerful performances I have witnessed to date.
With touches of soul and funk, the R&B singer filled the Haida house with a voice that begged the audience's attention and more. Their powerful, raw and resonant singing touched on topics of fidelity, healing, dis/comfort, addiction, and identity. Political and unforgiving, Aganaba held our hearts in the palm of our hands, and with it, continued to challenge their audience as members of a fractured society. With reminders between sets to "do better", "speak [your] truth always, to [your] detriment" in light of white supremacy and ongoing colonization, Aganaba used their platform to urge the audience to know their place.
The evening ended with Aganaba's unreal talent, beauty, and influence undoubtedly ringing in the heads of all privileged enough to have witnessed their expression of pain and reconciliation that evening.
Be sure to find Tonye Aganaba's newest album, Something Comfortable.
Posted on:

23 February 2020

By:

arts and entert...