Thundercat at Alexander Gastown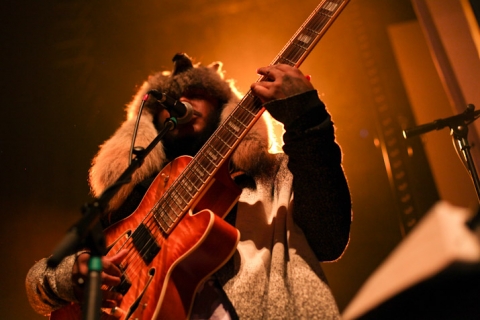 It sounds like the start of a bad joke, doesn't it? A Kraut-Chinaman and a Canadian ginger walk into a nightclub to catch a concert… except that me and Trevor didn't walk into a nightclub, we walked into Alexander Gastown, and performing that night was Thundercat. And though he smiled like a tomcat with a toothache, there was nothing remotely funny about his prodigy.
Some things don't change in fiction. The bouncers kept us waiting until 9 PM before they admitted us into the Alexander venue, a shadowy multi-level mezzanine space with stage space to fit a set of drums, two keyboards, a turntable, and little else. There would be no fist-flying action or moshpit that night—on stage, at least. Trevor and I settled beside the stage, and found ourselves at the epicenter of noise.
Though both of us were Brainfeeder-heads, we did not recognize Brainfeeder artist Mono/Poly when he entered the stage. After suffering constant technical difficulties, he finally came on with an earsplitting eldritch rumble, bringing forth either apocalyptic consternation or the sonic onset of our overdue mega-thrust earthquake. Hitting us between the ears, the impenetrable wall of bass transformed into an off-road glitchy Hip-Hop Mario Rainbow road-trip of whack-a-mole dense drum-percussion and bleep/bloops from cosmic reaches, with the occasional Reggae vocal and emcee verse. Needless to say, the crowd went banzai bananas during his set, with post-comments of "We should have a DJ that good playing every day in town."
The bass wizard made a grand entry at 11, sporting a yellow tuque and his six-string instrument of choice. Currently on tour to support the release of his new 16 minute album "The Beyond/ Where The Giants Roam", he was supported by the talent of Mark Brown on the drums, and a phenomenal keyboardist whose name, regrettably, I missed. My pre-show paranoia was that the show would match the new album length—but I needn't be concerned. Thundercat et trio played well after midnight, and they played well.
Gracing us with both his soulful voice and his prodigal bass-playing, the crowd responded like a sentient gelatin mold. Kicking off with the moody tracks from his latest release, Thundercat extended the short funky folk melodies with live jams and intricate solo improvisation. The man was in peak form, his voice dipping from a hum to a falsetto croon in a flash, soaring high over the club ceiling. His fingers traced a jittery spider web on the bass strings, recreating over and over those crowning rhythms, and I'm reminded once more why he's on Kendrick Lamar's new album, To Pimp A Butterfly.
Doubling up every so often in Buddha belly spasms and contorting his face into a stoned out all-teeth grin, he showed the crowd much love by throwing up peace signs, and wearing a bra on his head which was thrown at his feet halfway through the concert. After he played out tracks from the new EP, he brought in much-loved classics from his previous albums and other work with Flying Lotus. High marks included Oh Sheit It's X with its trademark bubbly funk, Heartbreaks + Setbacks and its uplifting croon, and Lotus And The Jondy, which ended in a gobsmacking solo.
Thundercat returned for an encore, starting with "Evangelion" and playing another half hour to a loyal audience. I'm surprised by how humble he is. Besides giving massive shout-outs to his colleagues Mono/Poly, his drummer, and keyboardist, he also showed much love to the crowd that night with cheesy smiles and grateful thanks.
Here's a cat that can laugh and smile, but he's no joke.
Posted on:

12 April 2016

By:

Administrator