Supermoon Cassette Release Party
Have you had a bad day or week?  Got a case of teen angst that happens to have intruded into your twenties?  Just looking for good times? Sometimes, all you need for those troubles and hankerings are some serious posi-vibes!  For instance, take the release party for local indie-pop phenoms Supermoon's debut cassette, Comet Lovejoy, which took place May 30 at Fingers Crossed; each and every one of the acts at this show positively and sincerely took this reviewer into orbit.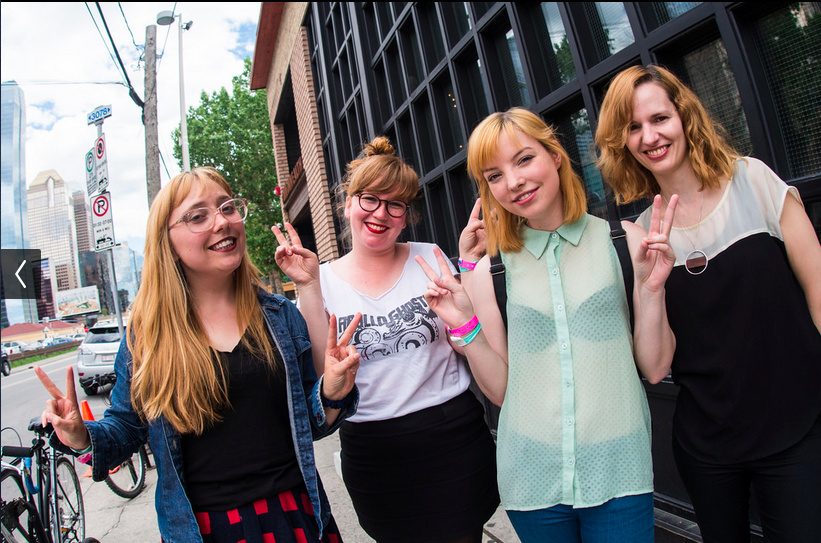 The night's opening act was Chris-A-Riffic, whose generosity and wry yet sweet showmanship is something of a legend in local circles (one audience member confided in me that he had seen Chris-A-Riffic play some 100 times, in various locales.)  A piano teacher by day, his pieces were modest in scale, yet passionate in their own way, issuing forth from his sticker-festooned electric keyboard. 
Lest things got too heavy, though, he regaled the audience of friends and fans with light-hearted banter, even jestfully chiding them for laughing at it. 
Continuing the night's ascent was Hermetic, the self-described "weird pop" project of Eric Axen, who also runs Alarum Records, which released Supermoon's debut tape.  Hermetic were as refreshing as the IV drip a dehydrated Axen needed while on tour, playing a set that deftly straddled the line between second-wave emo and straight up post-hardcore - think North of America meets certain works by Cap'n Jazz. 
But of course, the stars (yes, I know) of the night were Supermoon, who played Comet Lovejoy live on stage amidst moon mission footage, projected on the ceiling above them (there was a distinctly astronautical theme to the visuals at the show - Forbidden Planet was on the projector earlier that evening.) 
Sweet-voiced guitarist Alie Lynch shared vocal duties with drummer Selina Crammond and bassist Adrienne LaBelle, with Supermoon's other guitarist Katie Gravestock rounding out the quartet strongly but silently.  Transfixed by Supermoon's understated charm, the audience spilled into the space and onto an outsized set of stairs that had been set up in one corner of the room.  Yours truly, perched upon this climbing structure, was agog - one could say moon-struck.  The sound wasn't the best thing during their set, but Supermoon's cohesiveness saved the day well enough. 
It helps that Supermoon seem like they're the sort of people you'd like to hang out with after their shows.  After playing the last song of their set, they played a set of improvised encores and closed with an appropriately spacey rendition of "Happy Birthday" for one notable audience member and band-friend, Chris Martell, of Sightlines and Tough Age fame.  As the rest of the audience wished him well, cupcakes slowly made the rounds - but, as a mere suburbanite, I couldn't stay long enough to partake in the post-show celebrations, alas.  Perhaps another time?
Posted on:

12 April 2016

By:

Administrator