The Ruffled Feathers
Vancouver loves its chamber pop. Let's be clear about that. If your band has an eclectic range of instruments and a folk mentality, you're going to fit right in. It's tiresome and redundant, especially when only a few of these bands take any risks that are worth listening to. But the Ruffled Feathers are restorers of the faith; they are a team of musicians who are quirky enough to really push the boundaries of their potential. At the Bitlmore Cabaret on March 7th they broke the monotonous drone of Vancouver folk pop in gigantic way.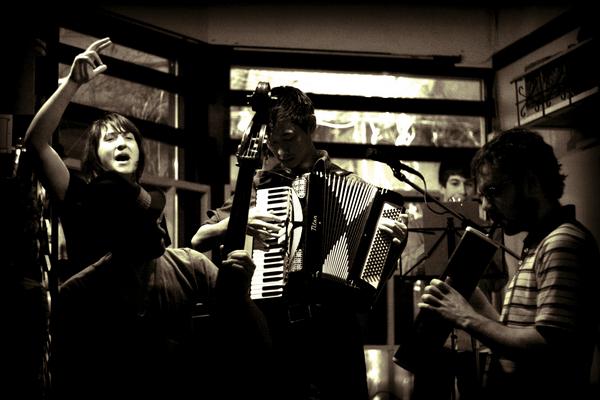 Admittedly, when I was heading to the show, I was so far from excited. It wasn't anything against the Ruffled Feathers at all. I loved their Lost Cities EP and to a slightly lesser degree their full length debut, Oracles. On top of that, I had seen them a few times, and enjoyed them thoroughly, despite their rougher edges. Perhaps it was a result of a long day at work or my current pop-punk phase, but a low-key acoustic based gig was not going to provide me with any sort of substantial boost of excitement. Despite my bad attitude, I found myself dancing, singing along, and taking photos to document and Instabrag about the experience everyone else on social media was missing.
The Ruffled Feathers packed their show with a surprising amount of energy, playing with passion unparalleled by their contemporaries. A true testament of a band relies on their ability to adapt their records into performance, a challenge exceeded by the Feathers. Clearly playing with a sense of renewal, they breathed new life into older tracks like "Home", transforming from a distant contemplative piece, to a high-energy, anthemic sing-a-long. Other numbers like the gorgeous "All My Cities" and the playful "Lead Me To Destruction" were masterfully owned by their creators and demanded the involvement of a willing audience. This sort of rowdy crowdplay was unprecedented in past performances, and brilliantly surveyed the depth of this band and the adoration of the modest fanbase.
Clearly one of the more mature and clearly talented bands, The Ruffled Feathers are something Vancouver should be proud of. On the surface they lend themselves to the stereotype of our music scene, but ultimately they challenge us to strive for a higher representation of West Coast culture. 
Photo Via Chipped Hip
Posted on:

12 April 2016

By:

Administrator