Rachel Yamagata
It was a dark, rainy and blustery evening to go out and see a show but Rachael Yamagata is a show I would not miss.  The Biltmore Cabaret is perfectly cozy enough for Rachael Yamagata's music. October 21st's show did not disappoint. Rachael has some very competent and compelling artists touring with her for this tour and they delivered nicely.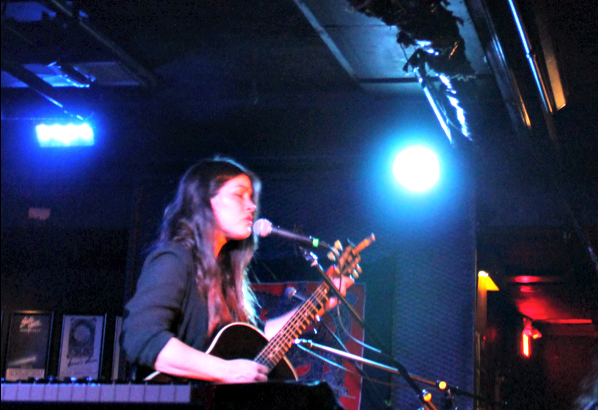 The show opened with Hemming who seemed a bit shy and reserved but warmed up to the audience once the audience crowded the stage. Rachael's shows in my book garner super loyal fans who are always respectful and kind to whoever is on stage performing. Once Hemming realized that the fans were here to see her too, she became more relaxed and fluid. I had not heard Hemming before and I found myself grooving along with her music. You can pick up her music online for free right now so get out there and get it at hemmingmusic.com. Hemming  is a Linda Perry (4Non Blonds) protégé of sorts from Philadelphia and I am sure we will hear more from Hemming in the coming year and through 2015. 
The next act up was a band (duo) called the Dove and the Wolf. Comprised of Paloma and Lou, their musicianship was wonderful. These two women are powerhouse talents from France.  I found their harmonies absolutely luscious and their music mesmerizing. From their first song to the last, including a song in French that delighted the audience, and their "acapella" number that left me breathless, their set was sublime. Theirs is some of the best music I have heard this year! You may find it hard to pick up their CD when it is released because they are a European act but do your best.   
Rachael Yamagata delighted the crowd last night despite having a bit of a cold. Ever the professional performer you could not tell the difference in her performance last night one bit. She belted out her tunes with the feeling and meaning in her voice that all of her fans adore. She played several of my favorites from her past releases including several cuts from her 2008 release Elephants...Teeth Sinking into Heart. There were also flawless renditions of "You Won't Let Me", "Be Be Your Love", "Nothing Gets By Here", "Reason Why" and a phenomenal rocking out version of "Worn Me Down" from her 2004 release Happenstance.  
This happens to be the 10-year anniversary of that album. She is releasing Happenstance on vinyl with her new release that will be coming out soon too. It is worth the 2nd purchase if you have Happenstance, and if you don't have it, pick it up. The entire album is a culmination of some fantastic and touching songwriting.
Rachael's show was really great and the entire show was really well done.  Her band and her as well as her back up vocalists ( The Dove and the Wolf and Hemming) were just wonderful. Her new release is not available yet but you can find out more on http://www.pledgemusic.com/projects/yamagatatightropewalker. On this site you can purchase her music when it is available as a pre order along with other nice things that she is offering like meeting the artist VIP passes as well as many other types of swag so check it out.  
Rachael is a very warm, humble and genuine performer and one that you really should see the next chance you get because if you don't know it already, her music and her songs are just that fantastic!
Posted on:

12 April 2016

By:

Administrator