Prateek Kuhad at the Fox Cabaret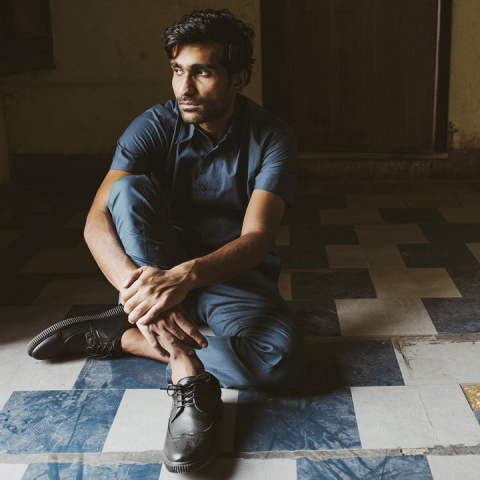 On Tuesday April 9, Indian singer-songwriter Prateek Kuhad visited Vancouver and performed at the Wise Hall, promoting his newest album cold/mess. This wasn't my first time attending a show at the Wise, and I was looking forward to it. The venue is a small building at the top of Adanac street, tucked away among housing and parks. I like going to shows at this venue because it's only about a 25 minute walk down Commercial Drive from the skytrain, and there are lots of shops and cafes along the way if you have time to spare. I also really like this venue because it's a simple dance hall with a small bar and stage, and almost nothing else. Going to shows here is always very relaxed and feels a bit like a school dance, though in a good way.
We arrived in time to catch the tail end of the opening act, Jasper Sloan Yip, a Vancouver based singer-songwriter. He played a few unreleased songs to end his set, which were acoustic ballads with only Jasper's voice and his guitar. I was really impressed with how lovely his songs sounded even with just guitar.
The hall was about half full, and the crowd was lively, chatty, and loud. When Prateek first came out on stage, the large crowd pressed up by the front cheered excitedly in anticipation of the set. He began the set performing by himself with the keyboard, singing a love song called "100 Words". He has a soft, soulful voice that is relaxing to listen to, though he also showed a stronger side to the vocals occasionally. Most audience members knew the lyrics and were singing along with Prateek enthusiastically. Prateek was later joined on stage by a drummer and bass player, as he switched between acoustic guitar, electric guitar, and keyboard throughout the set. Other songs from cold/mess that they performed included "with you/for you", "did you/fall apart", "fighter", and the title track from the album, "cold/mess". I was also happy to discover that Prateek performed three songs in Hindi, and his loyal fans didn't falter in singing along with him in this language.
Overall, I really enjoyed Prateek's music, particularly his skillful finger-picked style guitar and the poeticism of his lyrics. It was fun to see him switch between instruments, demonstrating his musical talent. The band members were both also very skilled, they were never overpowering of Prateek's voice when he sang softly and both added to the songs with beautiful three-part harmonies. I'm always impressed by how great three musicians can sound together when they are so in tune with each other. Prateek's songs were about love and relationships and paired well with catchy, upbeat, romantic melodies. I really enjoyed seeing the support the attendees showed Prateek, and I think most people would offer him the same support after hearing his music.
Posted on:

26 August 2019

By:

arts and entert...