Peach Pit Album Release Party at the Waldorf Hotel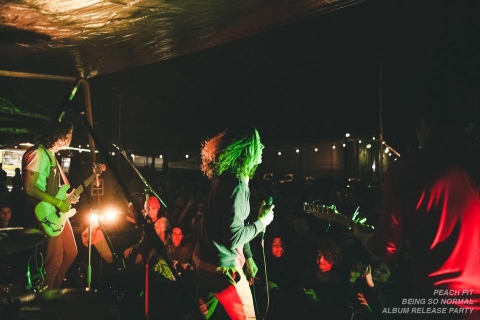 The bands performing for the night were Club Sofa, On Planets, Schwey, Dead Soft, and of course, Peach Pit.
We made it in time to listen to a couple catchy songs by On Planets before he left the stage. On Planets is led by Sean Wharton. After listening to his cover of "Flume" by Bon Iver on Soundcloud, I knew I would be excited to hear him live. His voice sounded smooth and made people want to move to the beat of the music. The crowd was just beginning to form at that point of the evening and you could tell everyone was having a good time.
Schwey put on an amazing show. It was a mix of calm, jazz and funk. Everyone was grooving to the beat and enjoying life. Good vibes were all around and you couldn't help but smile the entire time. My friend and I were so immersed into the sound of the music and living in the present moment that we had forgotten about all our worries from earlier. This band is my favourite out of all the ones that played that night. According to their Facebook page, they had just signed to 604 Records.
Dead Soft played louder, rock and pop tunes. Their music gave me a nostalgic vibe and most people were moving their heads up and down to the beat. They just released their track "I Believe You" in May this year.
The last band that played was the one everyone was waiting for. Peach Pit originated in Vancouver and are known for their debut EP, Sweet F.A., which released in 2016. Before they even entered the stage, a large crowd had begun to form. People were pushing and shoving around to try and get to the front. At one point the vocalist Neil Smith and bassist Peter Wilton stopped what they were doing and jumped into the crowd. Two girls from the audience got up onto the stage and did the same. Their indie, angst feeling music was something that everyone could sing along to.
One thing that separates Peach Pit from other bands is that they wear the same outfit to every show, photo-shoot and video. Even if you were unfamiliar with the band, it would be hard not to recognize them when they stood together as a group.
This album release party took place at the Waldorf Hotel parking lot. It was a night filled with great music and did not leave anyone feeling disappointed. Even when the show was over, people were still dancing to music that played through the speakers and continuing the party.
Peach Pit's new album Being So Normal was released on September 15, 2017.
Photo from Facebook. 
Posted on:

2 October 2017

By:

arts and entert...