Palma Violets
In an era of manufactured success, Palma Violets are in the midst of a natural ascent to stardom.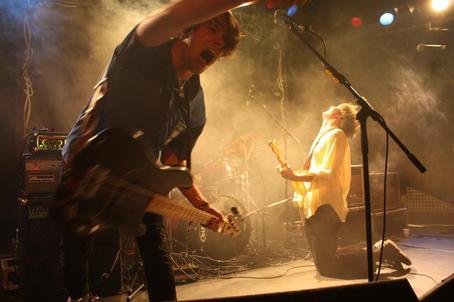 Natives of south London, Palma Violets just released their first album 180. To say their album was well received would be an understatement. 180 blew away the British press and won the quartet the title of NME's best new band of 2013.  Their early success has drawn comparisons to the Arctic Monkeys and White Stripes – some impressive company for a new band.
They played the Biltmore on Friday the 26th of April, in the midst of their first North American tour. And for a band coming out of Britain for the first time, this tour is beyond ordinary. They began by making their North American broadcast debut on Radio Q (Jian Ghomeshi was very proud) and then flew into L.A. to play the Coachella festival. They're going to be wrapping up in New York before moving onto the Netherlands, France and Spain.
Much of the buzz around Palma Violets is over their raw sound – a sound that transfers well to a live venue. This combined with their great energy and stage presence made for a lively night. They stuck to the songs that brought them their success, hits from their first album like "Best Friend" and "Step Up For The Cool Cats". Singer-guitarist Sam Fryer impressed with his powerful vocals, which have drawn him comparisons to Jim Morrison. Bassist and energizer bunny Sam Fryer even managed to fit a couple stage dives into the close confines of the Biltmore.
Perhaps the hype is overblown and Palma Violets are not the saviors of rock as some have made them out to be. However, their raw talent is a welcome counter to the conventional cookie cutter bands who are gifted a free pass to success.
It will be interesting to see if the buzz lasts, or if another band moves in and becomes the next big thing. Whatever happens, these are four talented individuals who are on their way to a long career in the music industry. Watch out for Palma Violets.
Photo from Songkick
Posted on:

12 April 2016

By:

Administrator