Omar Apollo at the Biltmore Cabaret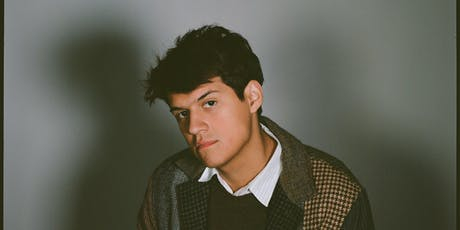 Saturday night, May 11th, my friends and I filed into the Biltmore Cabaret; an eclectic, basement-style suite typically filled with eastside millennials suited in beanies and mom-jeans.
Tonight, however was not that kind of night.
Blue and green lights jutted out from the ceiling and cascaded across the dancefloor, as if someone had split their absinthe in a flurry of pre-show nerves. We ventured into the Biltmore not to lift our spirits through spoken word, but to see a funky eccentric singer from Indiana by the name of Omar Apollo.
A healthy turnout of fans eagerly waited for the twenty-year old singer to take the stage, and he did not disappoint. Apollo boarded the elevated stage donning a silver, sequined button-down that reflected the beaming smiles of his audience back on to us. As he stepped into the pale green spotlight, screams of female fans filled the space around us. These persisted throughout the duration of the show, blasting my eardrums and sparking my interest.
Love songs and ballads made up most of the show with little awkwardness, as the occasional fast-paced groove kept the energy of the audience alive. So many of the young girls around us knew and chanted the lyrics religiously, responding to Apollo's turn of the microphone like children at bible study: unquestioning and unrelenting. Needless to say, I felt unprepared. Halfway through the show, Apollo turned to the crowd, amazed with his dedicated audience and shouted, "I feel like I know you, Vancouver!". His vivacious and confident stage presence felt unmatched.
As the end of the show dawned closer, his fans demanded an encore, wanting more. He delivered a high energy, punk-filled encore that left me wrecked. The next time Omar Apollo comes to Vancouver I will most definitely be attending and singing along.
Posted on:

26 August 2019

By:

arts and entert...