No Rush - The Short Story of John Rutsey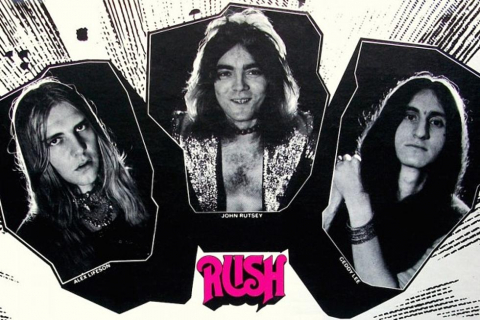 Most every quasi-metalhead is familiar with the prolific, power prog-rock trio, Rush. The majority however, are not so in tune with the legendary bands original drummer, co-founder John Rutsey. Rutsey played with the group in the early days and on their self-titled debut album before leaving the music business way back in 1974. Rutsey lived with diabetes (1) and was concerned about the health effects of frequent touring, ultimately citing the standard "creative differences" for the main reasons why he left what would become Canada's greatest rock export. He also preferred the more blues based material and was not fond of the progressive slant the trio was trending towards. Rutsey's run with Rush lasted from 1968-1974.
The genesis of Rush began when Rutsey met (future guitar guru) Alex Lifeson in school, where they played street hockey together and plotted to form a group (2). From the start it was Rutsey who pushed everyone to practice and it was said (by Ian Grandy, a member of the band's early roadcrew) there would have been No Rush without John. Following Rutsey's exit (stage left) the group recruited drummer/lyricist Neil Peart and they would never look back. Rolling Stone Magazine would rate Peart #4 on their list of the Top 100 Rock Drummers of all time only behind Ginger Baker (Cream), Keith Moon (The Who) and John Bonham (Led Zeppelin). Over their career Rush released 24 gold records, sold over 40 million records worldwide, are Officers of the Order of Canada, toured the world many times over and have influenced bands like Foo Fighters, Smashing Pumpkins as well as Metallica (Metallica's Kirk Hammett once referred to Rush as "the high priests of conceptual metal". Not too shabby for a trio out of Willowdale, Ontario).
With all this world wide acclaim I wonder how Rutsey came to terms with seeing his former bandmates soar to incredible heights while he sat on the sidelines relegated to a mere has-been. Rock history is packed full of somewhat flawed characters that were teetering on the cusp of greatness only to get sacked, go "AWOL" or perish mere moments before their band exploded into the sparkly stratosphere of fame and fortune. Characters like original Beatles drummer Pete Best. Pete held the beat up until 1962 when he was unceremoniously sacked and replaced by Ringo Starr. Best would end up working as an English civil servant for 20 years while his mates became the biggest band on the planet.Another former Beatle original bassist Stuart Sutcliffe left the band around 1961 to pursue a career in painting. Sadly he died at the age of 21 in 1962 of a cerebral hemorrhage.
In July of 1969, former Rolling Stone founder Brian Jones was found at the bottom of his swimming pool. His death came less than a month after he was given the boot from the band. Stones bass guitarist Bill Wyman said of Jones "... he was very influential, very important, and then slowly lost it – highly intelligent – and just kind of wasted it and blew it all away" (3).
Original Sex Pistol bassist Glen Matlock, who penned many of their classic tunes, was dropped for Sid Vicious. Sid could barely play a note at the time but he had the look. Reports (given to news outlets by manager Malcolm McLaren) stated that he was 'thrown out' because he "liked the Beatles" .The Beatles anecdote appears to be purely fictional (4).
Then there was the greatest cult figure in Rock History - Syd Barrett. The Pink Floyd founding member lasted slightly more than one album before a combination of psychedelic drug use and mental illness relegated him to his quaint English garden from about the early 70's onward.But what became of one John Rutsey following his departure from the world of rock 'n' roll? Was he at peace with being merely an early component of this country's premier international rock export or sour for missing out on all the glory? Who's to say, as not much is known about his life post-Rush. We do know he remained in the Toronto area where he competed as an amateur body builder and frequented the same gym as his former band mate, Alex Lifeson (5).
It is safe to say he never got close to the notoriety achieved with his former mates. Sadly John Rutsey died in 2008 of an apparent heart attack related to the complications of diabetes. He was 55 years old. Lee and Lifeson released this statement "Our memories of the early days of Rush when John was in the band are very fond to us. Those years spent in our teens dreaming of one day doing what we continue to do decades later are special. Although our paths diverged many years ago, we smile today, thinking back on those exciting times and remembering John's wonderful sense of humour and impeccable timing. He will be deeply missed by all he touched" (6).
In 2018 Rush finally decided to pack it in, John Rutsey played his last show July 25, 1974 at the Centennial Hall in London, Ontario. His 39 minute and 51 second appearance on Rush's debut album a swan song of sorts and neatly preserved on luscious vinyl. In the end, unknowingly, John Rutsey became a part of a long list of lost rockers that tragically checked out, just a tad too early.
Notes
(1) Rush: Beyond the Lighted Stage (Film released June 10, 2010). Quote from Vic Wilson "John was not a healthy boy. He had sugar diabetes. Of course like any teenager, he said he like to drink..."
(2) Contents Under Pressure: 30 Years of Rush at Home & Away. Martin Popoff. p. 9
(3) Lowman, Rob (27 October 2002). "Roll of a lifetime: Founding bassist Bill Wyman looks back at the Stones". Daily News. Los Angeles: thefreelibrary.com. Archived from the original on 9 December 2018. Retrieved 19 June 2017.
(4) "Interview: Glen Matlock bring I Was a Teenage Sex Pistol show to 2014 Edinburgh Festival Fringe". Edinburgh Festival. 30 July 2014.
(5) Rockline. February 6, 1989.
(6) "John Rutsey passes away at age 55". May 13, 2008.
Posted on:

18 February 2020

By:

arts and entert...