No Joy, Village, and Gang Signs
There's something about dreamy vocals paired with waves of distortion and bass. If there is a band that loosely prescribes to a shoegaze aesthetic, I'm usually there. It triggers this automatic comparison to 90s greats like My Bloody Valentine or Mazzy Star, two bands that propel me immediately into summer mode. So when Montreal gazers No Joy enlisted the help of locals Gang Signs and Village, I knew how I was going to spend my Thursday.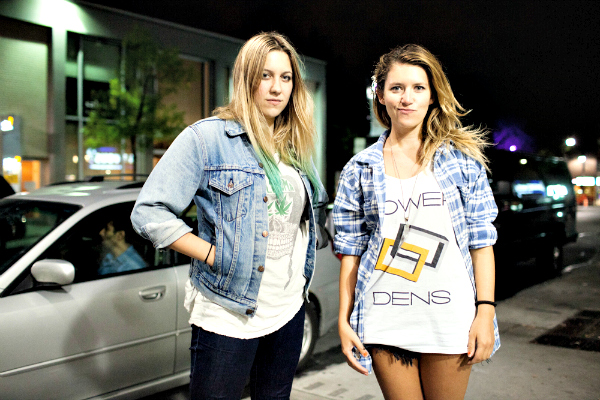 Unfortunately, because I'm atrocious at scheduling my life, I inadvertently opted to buy printer paper from the printer paper store immediately before closing. As fate would have it, closing was around the same time that Village was to take the stage. Village is one of my absolute favourite local acts, and I was heartbroken by my (predictably) poor planning. And of course, after a chance run-in with a close friend, I learned that they were, in fact, phenomenal. This was corroborated by The Interview Show's Scott Wood, who usually is right about these kind of things.
I quickly had to regroup from tragedy, as Gang Signs promptly took the stage. Having been familiar with them for years, I had never seen them live. The group had a larger scope than I imagined, with three members, when I had envisioned it as a bedroom project of Peter Ricq of Humans fame. Together, with Matea Sarenac and Adam Fink, the group's set fluctuated from a couple of slow-build, dark pop tunes, reminiscent of the xx, into almost full R&B, akin to Little Dragon. Ricq and Sarenac's vocals proved as excellent counterpoints to one another during the moodier tracks, but when left to her own devices, Sarenac's ethereal vocals opened up and would soar into a powerfully soulful croon. These moments, combined with Fink's effortlessly articulate and danceable drumming, marked their set.
Now, I should mention that I have paid little attention to No Joy since their 2010 release Ghost Blonde. I saw them once before, opening for Best Coast and Wavves' King of the Beach/Crazy for You tour, but they quickly faded from priority. I saw their name pop up from time to time, but never reaquainted myself with them. Admittedly, it was the openers that gripped me to this show, but after catching up on what No Joy had been doing for the past few years, they were suddenly the main attraction for me.
Right from the outset, Jasmaine White-Gluz and Laura Lloyd pressed the overdrive and didn't let up for a moment. They seamlessly weaved their wall of sound through different variations of their home genre, with elements of punk and psyche to colour the already complex textures they were strumming. Lloyd, front and centre, donned the pose from which the genre adopted its name and violently whipped a foray of blonde across her guitar while the boys on the backline, pummeled their respective instruments. Like the kids from the Simpson's episode "Homerpalooza", the sparse, Thursday night party folks swayed hypnotically, synchronizing themselves with the pulsating drum/bass combo.
While the majority of Vancouver was off doing something else, the Biltmore unofficially kicked off summer. After three solid sets, the select few who attended the show quietly left the venue. Totally satisfied, I walked home, incredibly thankful that printer paper stores don't stay open later. 
Posted on:

12 April 2016

By:

Administrator