Next Music From Tokyo Vol. 7
The second Next Music From Tokyo concert I attended was in fact the seventh installment of the highly popular concert series in Vancouver. Organized by Toronto-based Steven Tanaka, NMFT brings several Japanese indie musicians perform in a night each year in select Canadian cities. Having lived outside of Japan for a long time, I don't have a particularly extensive knowledge of Japanese bands; the concert series was a way for me to get familiar with the Japanese indie music scene.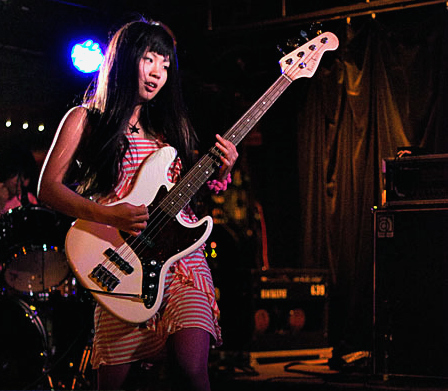 This time around there were five Japanese bands performing, two of them returning from the very first NMFT showcase from back in 2010. When CJSF work study (and my plus one of the night) Trevor and I got to the venue about half an hour before the show started (nice and early at 6:30) we were welcomed with a very diverse crowd of music enthusiasts from Canada, Japan, and beyond. I saw a couple of people sporting T-shirts and backpacks from the (now defunct) band Mass of the Fermenting Dregs, who took the stage at the second NMFT concert. Seems like this time the show attracted lots of longtime NMFT concertgoers!
"We are Atlantis Airport," the singer of the first band who took the stage at the Biltmore announced. "Welcome aboard, and hope you enjoy the show!" Atlantis Airport delivered some piano-driven pop-rock with a hint of jazz and uneven time signatures. Despite the somewhat irregular beats, they got the audience dancing and crowd surfing, the first of many crowd surfs to come. They had great stage presence, with the band introducing themselves towards the end of the set as pilot, co-pilot, and cabin crew, fitting well with the band name. I thought their English was great (but then again, I'm Japanese so I understood what they were saying on stage either way), and they definitely delivered on their last night performing in Canada for their NMFT tour.
Atlantis Airport definitely got the crowd pumped and ready for the next few bands, starting with PENs+ (who introduced themselves that night as 'PENs' without the plus). I only knew one song by them ("Tabi ni detai to itte"), but they didn't showcase that one...instead they showcased their newest works, a collection of mathy rock that still had a bit of a pop vibe. This band also showcased a bunch of tracks with ever-changing time signatures, which I didn't find as dancey as much as head banging.
Post-punk/no-wave band Otori took the stage next...and boy did they surprise me! Before the concert I only got to hear some low-quality live footage via YouTube. Live, however, they delivered with tons of energy that got the crowd wild and dancing with driving drumbeats, choppy distorted guitars, and punchy high-pitched spoken-style vocals. They're a definite 'must see live' band!
The last two bands to perform were those who performed at the inaugural 2010 NMFT: Mothercoat and Owarikara. The first of the two to take up the stage was Mothercoat, who proved to be the most experimental and electronic-influenced of the five. Otherworldly synth noises echoed across the now-packed Biltmore Cabaret, yet kept a steady enough groove to keep the crowd moving.
Straight-up rocking Owarikara, whose band name directly translates to 'from the end', closed the show with high-energy numbers that ended the seventh volume of the Next Music From Tokyo concert series on a high note. Crowd surfing, which had been going on throughout the night, was the craziest during Owarikara's set, bringing various band members and even the keyboardist mid-performance over a sea of hyped-up music enthusiasts' arms.
Both Trevor and I loved the energy and genre diversity the five Japanese indie rockers brought that night to NMFT vol. 7. A warm 'arigato' from both of us and our fellow concert attendees to Steven Tanaka and the bands for putting on a show jampacked with crowd surfing, uneven time signatures, and well-placed distortions. One of the finest cultural exchange moments I've had during my stay in Canada for sure: full of good music and a passionate crowd.
Photo from VanMusic
Posted on:

12 April 2016

By:

Administrator