Momentum Youth Arts Movement: Win The Moment
For a guy who complains all too often that "they" don't make good music anymore, it was quite refreshing to be at Massey Theatre on November 1st. There, I got to witness Win the Moment, a contest in which local bands competed to open for Hey Ocean!, a Grammy winning Vancouver based band. The audience voted for the winner. As part of the Momentum Youth Arts Movement, it was a showcase for young bands to show their talent and that they did. All four bands put on a great show.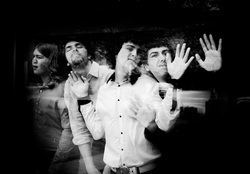 Aida opened the contest with four songs. I would say they were arguably the tightest band, which blew me away, hearing how professional the band sounded. Of particular note were vocals and guitars. I enjoyed the excellent blues style guitar and tight harmonies, not to mention vocalist Eric Gross' Mathew Bellamy style vocals, right down to the over the top falsetto. With a strong voice to support it too. Actually, that would be my only criticism, they sounded a bit too Muse-like. From the aforementioned vocals down to chord progressions, everything had a Muse vibe to it. That being said, they were very entertaining and out of influences to rub off, Muse are a very pleasant sounding one.
After Aida left the stage, the MCs coerced the crowd to form a mosh pit in front of the stage. This suited the second band, Alluvium, as they tried to engage the crowd a bit more with suggestions to dance. Although the crowd did not respond much, that does not take away from the musical performance. Alluvium stunned with some inventive song writing and interesting musical choices. I really enjoyed seeing an xylophone pulled out, and it suited the song quite well. Coming after Aida, however, they were a bit quiet, it seemed that Aida was pretty loud, and as a result Alluvium was a bit too quiet.
Opening with a cover of "Smells Like Teen Spirit" were 3-piece all girl alternative punk band, She Dreams in Colour. To contrast with the other bands, they took a minimalist, back to basics approach in their set. Using just a guitar, bass and drums, She Dreams in Colour powered through five songs, including originals, "Liar, Liar" and "Aftermath".
Closing the contest was Bluesmoke, a six piece band featuring two guitarists, a bassist, a drummer, a singer, and a saxophone player! They opened up with a song called CCR "because it sounded like CCR" although I thought it sounded more like Chicago, or in particular, similar to the song "25 or 6 to 4". They had a very jazzy sound, no doubt helped by the presence of a saxophone. After that they had a blues jam, with one of the guitarists switching to harmonica. Singer, Kirsten Suhner, had a clear stage presence, strutting across the stage with charisma. The band closed out their set with an excellent cover of Led Zeppelin's "Bring It On Home".
Before the winner was announced, the headliner, Tenant played. Although I am not a huge of metal, I really enjoyed the energy of the band. Clearly, it was contagious as the previously motionless mosh pit were now headbanging and shaking to the music. It would also be hard not to appreciate a cover of the Ghostbusters theme, with mini ghostbusters walking amongst crowd, dancing.
In the end, Bluesmoke came in first, winning the chance to open for Hey Ocean! the next night.  The 2nd and 3rd place bands, She Dreams in Colour and Alluvium won tickets to the next night's concert.
Posted on:

12 April 2016

By:

Administrator