Metsatöll
There has been a lot of debate recently on whether rock and metal are dead. I'm just an unpaid metal DJ on a small campus/community radio station and my opinion is usually worth about what I'm being paid for it, but I listen to enough rock and metal and go to enough shows to say with confidence that these styles of are far from dead. The days of bands getting multimillion dollar corporate record deals may be a thing of the past (and I'm not sure that is necessarily a bad thing) but the music is far from dead. Rock is very much alive. Metal in particular is everything it ever was and more. Case in point: the Rickshaw Theater on October 8, 2014.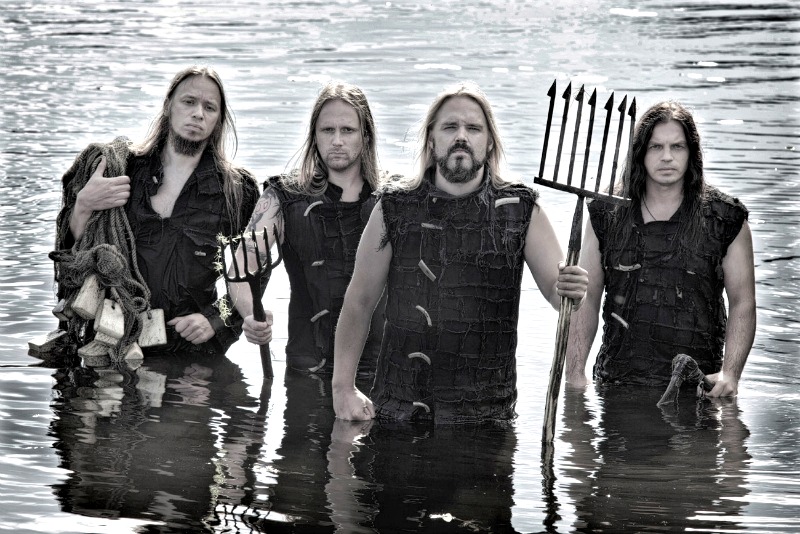 Eluveitie headlined an evening of folk metal in celebration of their new album, Origins. Supporting acts were TYR and Metsatöll. Having missed Metsatöll every time they have played Vancouver to date I was eager to finally catch them live. They did not disappoint, and both the band and the audience were very much alive.
Metsatöll is the most successful and well known metal band from Estonia, a small country in the Baltic Region of Northern Europe. To date they have released six full length studio albums, one live album, and various singles and EPs. Their name is a euphemism for 'wolf.' "Mets" means "forest" and "töll" is a kind of being that walks on four legs. In Estonian folklore there is a thought that one should not say the actual word 'wolf' for fear that one would appear and eat one's lamb. As a result, they came up with ways of saying it without actually saying it.
The band formed in 1999 as a three piece playing epic metal with subtle influences from Estonian folklore. A year later they fully embraced their folk influence with the addition of Lauri Õunapuu, a self taught musician capable of playing various traditional Estonian instruments.
Folk metal is an ever growing sub-genre with countless bands jumping on the bandwagon from all parts of the world. Metsatöll has secured its place with a tastefully unrefined sound that is true to both its metal and folk roots. The solemn vocals add an authentic feel. Also adding to their unique sound is the band's exclusive use of their native tongue, Estonian, for their lyrics. On their latest album, Karjajuht, they have a song called "Must hunt" which I thought might be their first English language song, however, it turns out that it is actually Estonian for "Black Wolf." Although I have little understanding of what they are saying, I don't find that a barrier to enjoying the music, and it proves that music in and of itself is a universal language.
Metsatöll's live energy at this show was very different than what is on their studio albums. This is not in any way a knock against their studio work, it is just an acknowledgment that folk metal music can be enjoyable on a whole other level when listened to live with other fans. It can be transformational when done right, and Metsatöll did it right. Their set was heavy enough to bang one's head to, contained enough hooks and chant along "hey hey" moments to keep me engaged, and the bands' fun-loving attitude infected the audience making us all feel like old friends out together for a night of partying.
The individual players meshed together well, but Lauri drew most of my attention on stage. He essentially fills the part of a second guitarist in the band adding melody and texture to the overall sound, but in place of a guitar he switches between a bagpipe, flute, and kannel (Estonian zither). He is also something of a showman. Reminiscent of 80s shredders who used to show off by holding their guitars behind their heads while whaling away, at one point Lauri actually tossed his bagpipe behind his head and went at it. The setlist consisted of several songs from their latest album as well as some older songs, and their performance was a good a representation of who they are as a band.
Fortunately, despite having to travel a long way to get here, Metsatöll play the Pacific Northwest somewhat regularly. If you are into folk metal or are open to something a little different, I highly recommend you do check them out the next time they are in town.
For more information on the Estonian metal scene check out:  http://www.estonianmetal.com/
For your weekly dose of melodic heavy metal, tune into the Metal Meltdown: Live Mondays 8-10PM, and repeated Thursdays at Midnight on CJSF 90.1FM
Posted on:

12 April 2016

By:

Administrator