Mellowhaunt Album Release Show - Red Gate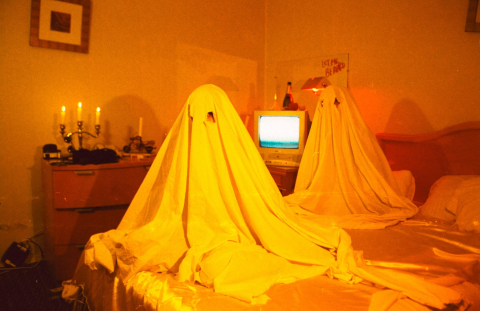 On February 28, relative newcomers, Mellowhaunt, headlined Red Gate Arts Society to celebrate the release of their debut full length album, Love is Strange. 
Dreamy, calming, and existentially lonely, Mellowhaunt is able to create beauty in heartbreak, a task that has proven difficult for many. While still making music that everyone can relate to, the group attempts to create something undefined, breaking away from the norm to create what they describe as "Sexy Sci-Fi". This diversity is important to the group, as they describe "I think that going into Mellowhaunt as a project [they were] very much like this is not something [we] have heard before", a theme that makes them "very happy".
Live, the group hopes to give new value to their music, experimenting with their songs to give the listener a new experience. "I like making [the live show] a lot different than the songs that you stream or the actual productions of the songs," says lead singer Derya Gwennyth. This is important for Mellowhaunt, in an age where everything is available online. This new experience comes from opening up the project to a full band, rather than the duo that writes the multi-layered recordings. This creates a new challenge for the group, forcing them to decide what to keep in the song and what to sacrifice while still retaining the vital characteristics.
This is something that Mellowhaunt is able to achieve well, connecting with the audience in a vulnerable state, a characteristic which brings out the best qualities in their live performance. As a full live band, the group appears confident and collected, making it appear as if they've been playing together forever, with chemistry that allows all energy to be channeled back into the songs. Watching the group, it is easy to get lost in the music and forget you're at a show, a quality that is often difficult to capture for many artists.
For a group that is only a few months old, Mellowhaunt displays a sense of belonging, as if they were always meant to make music together. With a unique sound and a great live show, seeing Mellowhaunt is necessary for any music lover, an experience that will not disappoint.
Posted on:

7 April 2020

By:

arts and entert...