Madeon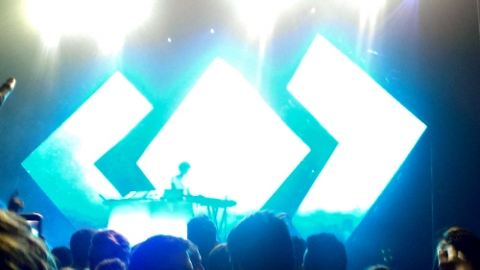 I fell in love with Madeon's music the moment I first heard the emerging 21-year-old French electronic producer's debut album Adventure. Everything sounded fresh and immediately danceable. The moment I saw him performing in a YouTube video from the early stages of his career, laying together 39 (!) little song samples into an amazing house-influenced dance-pop mashup track "Pop Culture", I knew when he came to Vancouver I had to see him perform live. 
Madeon was joined by another fairly new electronic act, Chicago duo Gilligan Moss. Judging from the limited capacity of the venue – the balcony was closed that night for some reason – we had a decent turnout, with about 70% of the bottom floor filled by the time they started playing. Gilligan Moss played some nice chill beats, including a fantastic remix of Glass Animals' "Gooey", which I found to be quite enjoyable to dance to, contrary to the rest of the audience. I think it was because the music was a bit quiet, but it was hard to hear the duo over the sound of the crowd talking.
The crowd got bigger with time, and by the time Madeon made his entrance the whole ground floor was packed. To his Adventure Intro he appeared along with some blinding flashing lights, before kicking off the main performance with the anthemic summer-jam "You're On".
The best part about this performance was that the mixing was all done live, instead of pre-recorded; he mixed the track samples so well I was intrigued by how he still managed to retain the essence and dance-ability of the individual tracks in his live chopped-and-screwed remixes. The crowd appeared to love it, too; they were cheering as Madeon showcased each individual track he's released so far, including his signature "Pop Culture" mix complete with a display of his signature MIDI controller on his Madeon diamond logo behind him. The crowd was most animated when he played the critic and fan-approved track "Pay No Mind", a truly anthemic electropop track featuring vocals from Michael Angelakos of Passion Pit.
He wrapped up the show with "Home", after cries of an encore from the crowd. This was a highlight of the show, as Madeon actually sang a major part of this song live over slightly subdued instrumentals, before blasting the synth and pre-recorded tracks live for the big choruses. I left the show slightly deaf, but still energetic from all the dancing, and feeling grateful to be able to see who just may be the next big thing in today's ever-changing electronic music scene.
Posted on:

12 April 2016

By:

Administrator