Madchild at The Commodore Ballroom
Shane Bunting (aka Madchild) was a part of the hip-hop group Swollen Members until his drug abuse put him in the hospital fighting for his life. After his hospital release, Madchild was clean from drugs for the first time in his life. He spent ten months working on his new solo career and eventually came out with his first album titled 'Dope Sick'.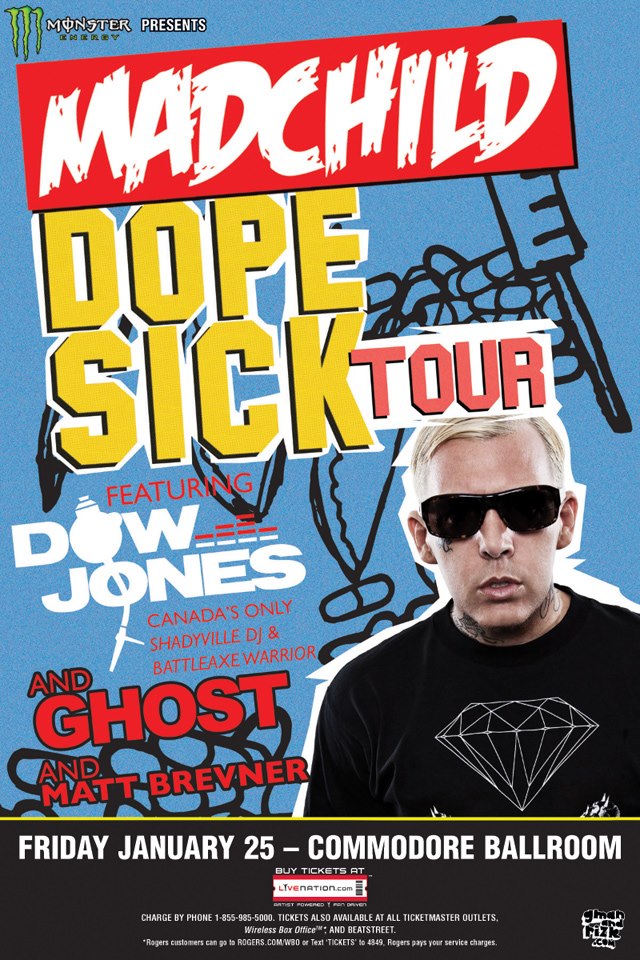 On top of his solo career, Madchild and Swollen Members are preparing to drop their new album "Beautiful Death Machine" in March. His solo Canadian tour started in October and is ending in his hometown Vancouver at the Commodore Ballroom on January 25th. The Commodore Ballroom, located on Granville Street, was built in the 1920's. Since its creation, the Commodore has been dedicated to bringing Vancouver amazing music including; U2, Lady Gaga, Metric, The Police, Pearl Jam, Dr. Dre and now Madchild!
When an artist leaves a group and branches out on their own, it often sounds the same minus the other band mates. 411mania.com did a review of Dope Sick with a lot of positive feedback, saying that it's totally different from the usual Swollen Members sound. Swollen Members' Rob the Viking didn't produce "dope Sick" because Madchild wanted a more underground feel. Instead, Madchild collaborated with an up and coming producer, C-Lance, who hasn't been spinning beats for long but is gaining prominence as a producer with unique style and original content.
Opening for the January 25th show is Matt Brevner, Ghost, and Dow Jones. Don't miss out on the last stop of Madchild's Dope Sick tour here in Vancouver! Tickets are $20 and can be purchased through Ticketmaster. The show starts at the Commodore at 8PM. This is one show you don't want to miss!
Posted on:

12 April 2016

By:

Administrator