Kris Delmhorst
I was so lucky to catch Kris Delmhorst just south of the border here in the Pacific Northwest recently. Our proximity to Seattle makes it a nice joy that many of of the United States' great singer songwriters make a stop over in Bellingham Washington at a pub called the Green Frog.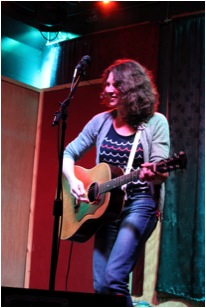 I spotted her tour date just by chance, thanks to social media.  It is times like these (spring and summer tour schedule season) that I wish I had more than 24 hours in a day so that I could keep my calendar updated with ALL of the great shows in our area. Kris' show was one of those shows that I was able to catch
I call the Green Frog the Tractor Tavern north of Seattle, but with way better food.  If you are familiar with music in the Pacific Northwest you know what I mean when I reference the Tractor Tavern.  Their assorted grilled cheese sandwiches are mind blowing.  The tavern is unassuming and the bar is all cash so heads up bring your real currency to this place.
Coincidently, I was introduced to Kris Delmhorst's music at the Tractor while seeing Catie Curtis. She opened for her there back in 1996.
Kris's show was fantastic. Her new Album, Blood Test, is her first new original composition since 2008's critically acclaimed album Shotgun Singer. This album reminded me of how beautifully composed her music is. She writes just as easily about love, as she does about loss, happiness and how life changes us. I appreciate this aspect of her writing. Her lyrics are matter-of-fact, cutting to the chase to make you sit back and realize that all of the moments in our lives, no matter how small, become a beautiful mosaic of our lives. Her music takes you down those pathways with each chord and you walk away from her show feeling good and having a reverence for those moments of your own life. That to me is a key to a great singer-songwriter and Kris for me is one of those people. 
She played beautifully and effortlessly with her co band mate Austin Nevins for the tour. Austin is a fabulous guitarist and matched beautifully and effortlessly to Kris's guitar and vocals.
It was just the two of them on stage playing together for maybe the first or second time as they mentioned that night. You would never have known that because they meshed together so well and seemed to know each other's styles perfectly
Her track list followed Blood Test track for track and took you on that journey with her of what must have inspired this latest CD. 
I found something to love about each and every track she played and followed along on the journey with anticipation.   The one diversion she did take from the current album set list was to play a track off of her 2011 album Cars, which is her version of music that Ric Ocasek and The Cars. She played an intense yet sweet version of "Magic. "  
Delmhorst acknowledges that her latest work is "an acknowledgement of the weary work of an intentioned life – and the new American dream of presence and perspective in a frenetic time. " 
She conveys that message beautifully on Blood Test. With each track you learn more about her path as of late and you also can feel her music as it weaves in and out of your own experiences.
You can get her latest record, Blood Test, on her website.
Posted on:

12 April 2016

By:

Administrator