Imagine Dragons Turn Up the Heat!
Imagine Dragons / Rococode
October 6, 2012
VENUE, Vancouver, BC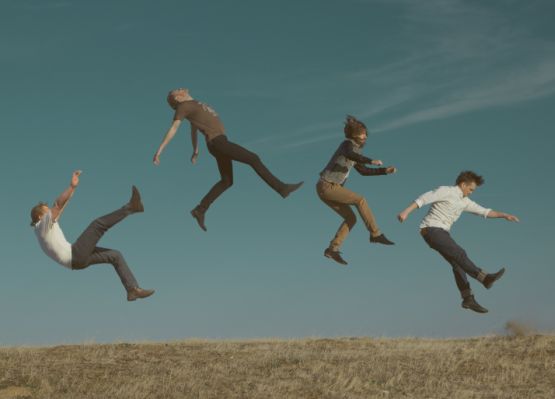 It's not everyday an indie nerd like me gets to meet and see a band just before they blow up.
Las Vegas-based Imagine Dragons are a rare bird these days since they are popular and they make rock music. Their debut record Night Visions was the highest charting rock debut on Billboard's charts since 2006. Their style owes a lot to the neo-hippie indie vibe from Yeasayer's first record, but Imagine Dragons have polished that style until it glows neon.
Their first record was produced by hip hop producer Alex Da Kid, the man behind chart toppers like Eminem's "Love the Way You Lie." Night Visions was the producer's first "rock" project, but when you listen to the record, it's clear Da Kid knows how to make any pop product gleam.
The sold out crowd was a nice mix of office people who dress up to go to clubs, people who fell in love with Imagine Dragons because of mainstream radio, and OneRepublic fans—and no doubt OneRepublic's dream of having a record so well produced.
This was also a big night for local band Rococode, opening for a sold out show for a soon-to-be huge act. It was such a big night that Rococode singer Laura Smith invited her mom to the show.
At their best, Rococode have a great indie rock vibe (like treasured Canadian indie bands Stars or Metric), but they are still a bit uneven. Their male-female, he said-she said vocals have a lot of potential. I look forward to seeing them develop.
As I left VENUE, I walked past the merch table and Dan, the Imagine Dragon's lead was manning the table, not something you typically see bands of his size do. While Dan greeted a line-up of fans, the rest of the band did their own take down and load out, also rare for a band of their size.
Midway through the show, lead singer Dan took off his boots and exclaimed that "4 months ago, we were no one." And he reminded the crowd that last time they played Vancouver not many people attended. He did promise that the hard touring band will be back later this year—no doubt another sold out show in a bigger venue.
Stay tuned for an interview with Imagine Dragons coming soon to the interview show!
Follow us @interview_show
the interview show is everywhere!
www.cjsf.ca (Vancouver, BC, Mondays 4:30-5pm PST and Wednesdays 12:30am)
www.ckdu.ca (Halifax, NS, Saturdays 1:30-2:00am AST)
www.radiocfxu.ca (Campus Community Radio, Antigonish, NS, Fridays 11pm-12am AST)
www.cfru.ca (University of Guelph Radio, ON, Tuesdays 3pm EST)
www.umfm.com (Winnipeg's Hit Free Radio, MB, Fridays 6-6:30pm CST)
www.caperradio.com (Cape Breton University Radio, NS, Wednesdays 2:30-3pm AST and Fridays 5:30-6pm AST)
Permalink: www.winniecooper.net/tag/the-interview-show/
Posted on:

12 April 2016

By:

Administrator