Hockey
Arriving at the Biltmore for a Friday nite gig one usually has a set of certain expectations.  On this particular evening it was seeing former Portland-based indie/alt rock act Hockey.  After an initial slow trickle of attendees and slightly peculiar crowd mix seemed to cause delay, somehow everything seemed to work itself out just right and become more intimate and cheery by the conclusion of a wonderful musical entertainment experience.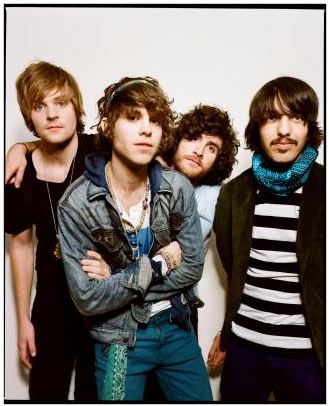 The opening act, all the way from Florida, was Swimm, yes with two m's.  They made reference to this and joked about needing a place to stay for the night, but apparently it was no joke; perhaps it was part of that whole "starving artists" thing.  The focal points of the band are Chris Hess and Adam Winn who write & record together and oftentimes add other musicians to live sets.  In town showcasing their latest EP Feel, their music haphazardly seeps into typical indie and straight ahead rock, with hints of dance and psychedelia.  I found them lively onstage and quite similar to James in many respects.  While Hess' voice eerily reminds me of a very young Bono, say circa 1980-1982.  Songs like "Wanderer", "Feels", "Souvenir", "Tisk Tisk", and "Too Old" can all be found on the aforementioned EP and were displayed during the set, which closed out with a song not on the EP called "The Weekend".     
Next up was Los Angeles 4-piece Saint Motel.  With indie, garage, glam & dream pop elements incorporated, they still had such a UK mod undercurrent that I felt I could have been watching a Brit band from 1965 or 1978. I often reminisced about early Elvis Costello and even thought of local trio The Tranzmitors.  The band is comprised of AJ Jackson (vocals/guitar), Aaron Sharp (guitar) Dak Lerdamornpong (bass) and Greg Erwin (drums).  Showcasing bouncy songs from their debut full length Voyeur titles like "Feed Me Now" "Benny Goodman" "1997" "At Least I Have Nothing" "Puzzle Pieces" and "Honest Feedback" were all well received. The group also has a 7-inch and an appropriately titled EP ForPlay in their library.  
Unfortunately border issues led to members of Hockey being detained, chiefly Jeremy Reynolds (bassist), one of two founders.  This created a scenario where only three were able to play, including fellow founder Benjamin Grubin (vocals/guitar), touring keyboardist Ryan Dolliver and a session drummer.  Headlining the bill to display their sophomore effort Wyeth IS, songs like "Wild Style" "Explorer" "My Mind" "Dancer" and "Calling Back" were pleasing.  Yet the trio often needed help, and added fellow tourmates in-house to their percussion section much to the delight of a sing-along crowd.  At a few points during the set I remember upwards of five additional people dancing and playing onstage depending on the circumstances.  Luckily their added participation on singles from Mind Chaos such as "Too Fake" and "Learn to Lose" will enable all three bands to have fond memories of playing their first ever shows in Canada.
Posted on:

12 April 2016

By:

Administrator