Hippo Campus at the Imperial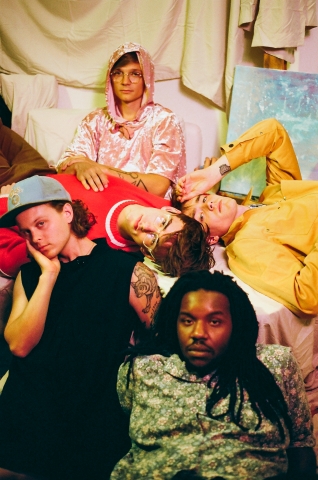 After braving the frigid winds on February 8, the eve of the dump of snow that was to hit Vancouver, I ended up at The Imperial. This was my first time at the venue, tucked away in a non-descript corner off Hastings St. With the Terracotta Warriors lining the walls, it took me aback how both intimate and grand it was compared to venues I had been to in the past.
I arrived at the show thirty minutes before the opener, Now, Now, was to come on, and the floor was already getting packed. There was an electric buzz of excitement pulsating around the room as the lights finally started to dim and the indie-pop duo came on. With bouncy, hard hitting beats mixed with springy guitar and mellow synth, Now, Now brought the crowd to life. Almost everyone started dancing to earworm-worthy tracks like "SGL" and "MJ" off the band's 2018 release. The scene was set with anticipation for a follow up equal to Now, Now's solid opening set.
After waiting for what seemed to be an eternityfor headliners Hippo Campus, with the crowd swelling with anticipation and pushing closer to the stage, the indie sweethearts finally came onto the stage. Having been a fan of the band for several years it seemed well past due that I should see them in concert, and they gave a phenomenal show to put any doubts to rest.
The band opened with the hit single and album namesake, "Bambi", with its jagged synth melody igniting an eruption from the crowd. The entire setlist flowed perfectly with a mix of the old favourites, like "Suicide Saturday" and "Buttercup," amongst newer songs off Bambi, resulting in a robust performance from the Minnesota band. A pleasant addition to the set was inclusion of french horn and trumpet, played live instead of pre-recorded, as is so often the case with more niche instruments in rock music. From the moment Hippo Campus came on, the crowd was dancing. Their infectious, feel-good, pop made you want to dance and never stop – it was a wild night.
The evening left me breathless (literally) when it came to a close. Coming from the ice-cold Vancouver night to the electric floor of The Imperial was like being transported to an entirely different universe for three hours. Along with a great night of solid performances by both bands, the crowd really made the evening a success on a whole other level (for a lack of better words, it really sucks when the audience is dead – it gives the performance a weird sour feel). If you ever get the chance to see Hippo Campus when they come back to Vancouver, heck if you're able to see them in any city, it will be a night you wont forget.
Posted on:

4 March 2019

By:

arts and entert...