The Dirty Nil, NEEDS, and BRASS
Due to vehicle troubles, the main act Single Mothers couldn't make it to their show on March 3 at the Electric Owl. Fortunately their supporting acts Dirty Nil and NEEDS made sure the show went on, only at a slightly smaller venue space: the Electric Owl basement.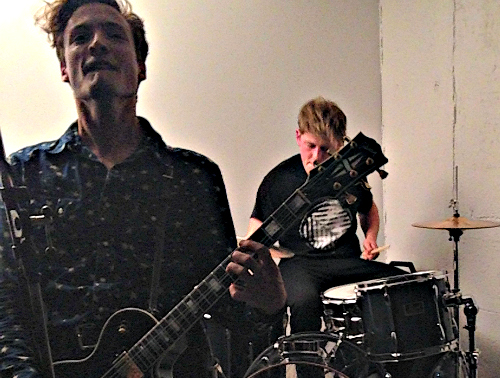 Vancouver band BRASS kicked off the show. They were called in to perform at the last minute after the replacement band for Single Mothers. Their performance was full of energy, even though the makeshift stage (i.e. the corner of the basement) was small. Since it was the first time I got to hear their music, though I'd heard of the band before, I was impressed by the crowd. Instead of being on their smartphones texting or holding their phones up, fans were dancing around, bopping their heads along to the music, or moshing dangerously close to the band (no injuries by the way.)
Dundas, Ontario band the Dirty Nil was up next. Before their performance I got to know a group of the Dirty Nil fans here to check out their performance in Vancouver. I alternated between standing near the 'stage' and sitting down at the back of the basement with the Dirty Nil fan group, who were all singing along to their songs, especially on their track "Cinnamon", which you can find on Bandcamp. Again there was some very close moshing. The show was the most packed for The Dirty Nil as they supplied an energetic performance. The fans of the band were genuinely having a hell of a time as the band put on the most memorable performance of the night. I'd definitely like to see the Dirty Nil perform again.
The show finished with a set from Vancouver band NEEDS, who decided to shoot their new music video that night. It was for their newest Bandcamp single, 'We Forgot the Records to Our Record Release show'. As a first time punk concertgoer I was a little taken aback by how rowdy their performance was, even with camera crew filming the band very close to them. The video shoot for that particular song ended with the lead singer rolling around on a floor full of broken glass shards, cutting his hands and face. Their performance was by far the wildest of the night, one of the wildest I'd ever seen. The moshpit was very crazy, even leading to some people in the audience jumping onto the vocalist as he moshed along as well.
Overall, my first punk concert ever was incredibly memorable. There was a fantastic crowd who came to the venue to enjoy their music, singing along and moshing instead of being excessively attached to their smartphones like what often happens in many concerts nowadays. The band put on a genuinely fun performance, gladly interacting with the audience and enjoying the music they played. Given the chance I'd love to go to another local indie punk show.
Photo by Laura Zukosky  
Posted on:

12 April 2016

By:

Administrator