Com Truise
Com Truise is cooler than Tom Cruise. That's a fact. OK fine, it's Cloudy's and my opinion, but our adoring attitude toward the Brooklyn-based synthwave producer was shared by a packed house of synth lovers at Fortune Sound Club on February 24th. Having his tracks on high rotation on our show, we beamed with excitement when we discovered he was bringing his mind-melting and digitally sensual set to the city of yoga and soy lattes, so we tweeted Com, whose passport name is Seth Haley, prior to his arrival to relay our anticipation of the show as well as our major artistic crush on him.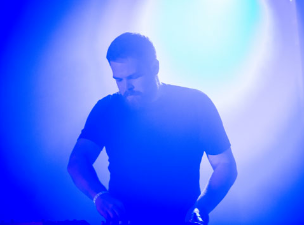 The venue was rather sparse and Cloudy and I joked about walking the "concrete carpet" at Fortune together because there was a sarcastic exclusivity about being there for one of our favorite artists and having nobody to wait behind in line. Having lived in New York for close to a year, I often frequented small underground venues where the likes of Com would play, yet upon my return to Vancouver have witnessed a few shows with less than anticipated attendance for artists that I thought would get more love from the local music scenesters. I predicted that the same may be true for the Com Truise show, but I admit, this time I was wrong. The club filled up for the opening act, Phantoms, a producer duo whose head bobbing and New Kids on the Block-esque dance moves were enough to crack the stage at Fortune as the crowd responded energetically to their erratic, high BPM mix of house and electro. Most of their tracks were remixed, but they did drop a few of their own infused with jazzy swing-style samples, and hyped up the crowd for what came next. 
After a quick break, Com Truise graced the stage, equipped with a pentagonal sound-responsive multi-colour light system which was the centrepiece of his stage layout and him at the command of his dynamic synth vessel. He started his set with some very cool sound effects and proceeded to hit us with a barrage with some of his well-known hits. He then went on to manipulate the crowd into a complete frenzy with some people jumping up and down enthusiastically crashing into others and at times it felt as thought the low frequencies coming from the sound system were vibrating our bodies to the point where we wondered if our auras were changing colours from the sounds. He also added to each track certain amounts of delay and reverb that aren't there on the originals, in effect gifting the crowd with a unique version of some of his classics like Ether Drift, Hyperlips, and Data Kiss. He ended his set with a few new tracks, to which the crowd consistently went through waves of energetic and slow, sensual closed-eyed dancing. When I myself closed my eyes and immersed my senses in the retro video-game themed vibes, there were moments of long, drawn out and 8-bit galactic synth sounds that had almost an un-earthly quality to them that made me think that perhaps when aliens decide to party on this planet, Com Truise will surely be the one to bring the tunes and communicate in Close Encounters with the Third Kind fashion. With the introspective effect that it had on the listener where each person goes inside themselves and feel their own experience, some people seemed to be very removed, while others ecstatically jumped around, and left others in a fixed daze, as if they were hypnotized by what they were seeing and hearing. 
He has a unique poise and despite the crowd's reaction maintained full focus on his digital throne, masterfully controlling the atmosphere with careful track selection, inserting breaks between certain songs to stagger the flow and interact with the crowd, varying it up and intentionally mixing others with a thoughtfulness that only the one who constructed them would have.
Afterward, Cloudy said that Com Truise's music makes him lose sense of time and space, taking himto a place where lyrics and tempo don't matter, just the beauty of the notes combined, dancing together and complementing each other. The only thing that matters is if you have enough quarters to keep playing.
Posted on:

12 April 2016

By:

Administrator